Bios
CCA has deliberately assembled a marketing team with diverse backgrounds that include expertise in strategic marketing, new media and public relations. We are capable of developing new brands from conception, and refining and refreshing the image of better-established brands. Together, we offer a broad spectrum of experience and professional credentials to serve your organization's immediate and long-term needs.
The Captain of the ship, Kimberly Charles has worked her PR and marketing mojo all over the world for 30 years. As an employee and an agent, she tackled marketing issues of every size, shape and color, generating buzz & tangible results for wineries, gourmet food producers, nonprofit organizations, museums, hotels, perfume and luxury cars. Her approach is rooted in developing a true understanding of the distinct character of a product. Kimberly's foremost passion is representing clients with a socially responsible or sustainable business platform. Kimberly has largely focused her efforts on the wine, spirits and food industries, but has also crafted cause marketing and co-branding campaigns in co-operation with luxury brands including BMW, Ritz-Carlton, American Express, the Marriott and Hyatt Hotel chains, the Tony Awards® and others.

She began her work in New York at the premium wine importing company Kobrand Corporation, where she served as Public Relations Director for a portfolio of internationally recognized brands including Taittinger Champagne, Louis Jadot Burgundies, Taylor Fladgate Ports and more. At that time, she oversaw all company media relations, co-marketing partnerships and winemaker media tours, putting her language and travel skills to great use. She was part of the team that launched and nurtured the brand Alizé de France.

She moved to Northern California to become Director of Communications for E. & J. Gallo Winery, directing corporate and internal communications, focusing on the successful re-launch of the Gallo of Sonoma brand. She then accepted a position as Senior Vice President of Magnet Communications in San Francisco, where she built an impressive roster of wine industry clients including Perrier Jouet & G.H. Mumm Champagne brands, St.Supéry Winery & Vineyards, Fetzer Vineyards, Fess Parker Winery and Robert Mondavi Imports among many others.

In the spring of 2003, Kimberly launched her own company, Charles Communications Associates in San Francisco, specializing in strategic branding, corporate social responsibility with a focus on launching, reinvigorating and repositioning of brands.

Kimberly holds a B.A. in History & Government from Georgetown University and also successfully completed the Diploma course for the Wine & Spirit Education Trust in London in 1997, one the early group of American candidates to attempt this challenging exam. She is a member of Slow Food and Les Dames d'Escoffier San Francisco. She is also a Trustee of the River Network. She served as Vice President of the Society of Wine Educators (2003-2005) and as board member for five years.

When she has time to breathe, Kimberly loves to travel and live it up. Her travel bug has fueled her interest in classic food and wine, sake, arak and single malt scotch. Her excursions to Russia, Lebanon, Iceland, Japan and Greenland continue to inspire her thirst for exotic locales but in her restored 1900 Victorian home in San Francisco's Mission District, she has found a home, where she can share her love of cooking and entertaining with a stimulating group of friends and colleagues. She is a devotee of yoga and endeavors to stay centered in an ever-changing world.

Restaurant: Cotogna in San Francisco & Septime in Paris
City to visit: San Sebastien
Place to shop: Le Marche aux Puces, Cligancourt or any funky flea market around the globe
Musician: Killian MacGeraghty
Cuisine: Moroccan
Wine: Chateau Cheval Blanc 1982
Beer: Supporting our local brews in Northern California, Little Sumpin' by Lagunitas - an IPA with a hoppy kick!
Book: Journey of Souls
Film: The Lives of Others
Philosopher: Rumi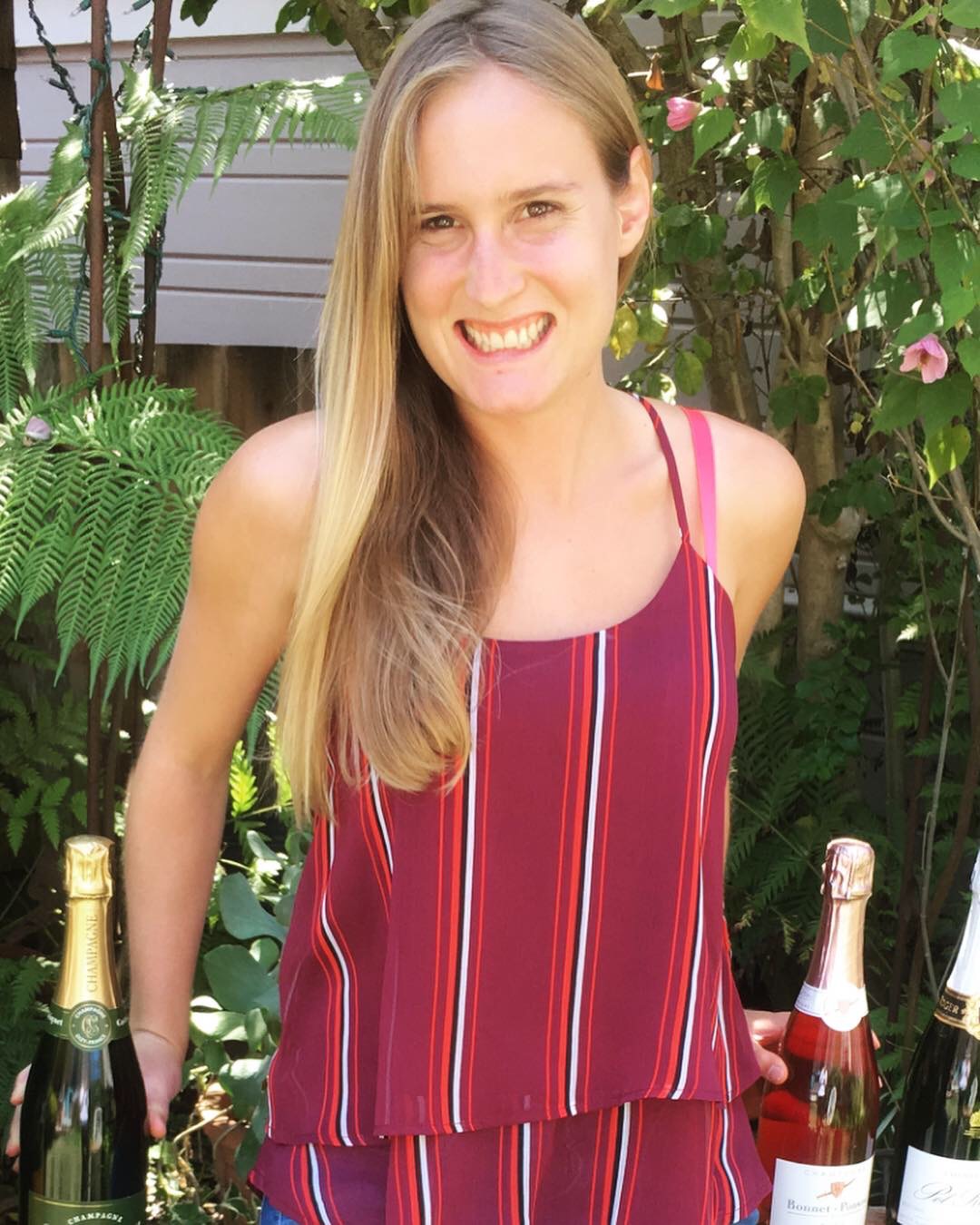 Kristen Rinck
Account Executive
If you would have told Kristen a few years back that she would end up in the wine industry she would not have believed it. But now she owns her 'Champagne Personality' and is ready for anything this crazy world of wine throws her way.

Kristen is a recent graduate from Cal Poly Pomona with a major in Hospitality and a minor in Entrepreneurship, where she worked as the teacher's assistant for the wine class. Kristen passed her Introductory Sommelier course on campus a month after turning 21 and has been hooked on the wine industry ever since. Who would have known studying could be so much fun? After graduating, Kristen moved back home to Alameda to help take care of her mom who had been battling breast cancer for the past year. During this time she worked at a small wine and beer shop in Alameda and continued to work as a Wine TA. In addition, Kristen took this time to pass the Certified Specialist of Wine Exam and earn the highest score of the class on the Certified Sommelier Exam.
As fate would have it, timing for Kristen and Charles Communications Associates, seemed to collide and a relationship was forged. As Account Coordinator, Kristen utilizes both her hospitality and wine background to best assist clients.

In her spare time, Kristen enjoys going to the gym, cooking, babysitting, exploring the Bay Area with her friends, and of course drinking wine. Kristen loves her Alameda community and is often seen hanging out with her amazing neighbors or still working some hours at her favorite wine shop.

Restaurant: A-Côte in Oakland, Cotogna in SF
City to visit: Barolo, Piedmont, Italy
Place to shop: Craft Beer and Wine (Alameda) Venchi Chocolate (Florence)
Musician: The Clash, Frank Sinatra, Lady Gaga, Post Malone (depends on my mood…and what I'm drinking)
Cuisine: Italian
Wine: Giuseppe Rinaldi Barolo & Krug Champagne
Beer: "The best beer is the one in my hand" - Belgian, German, local West Coast IPAs
Cocktail: Rye Manhattan
Book: Everybody Poops
Film: When Harry Met Sally or The Thin Man
Philosopher: E.E Cummings – "The most wasted of all days is one without laughter"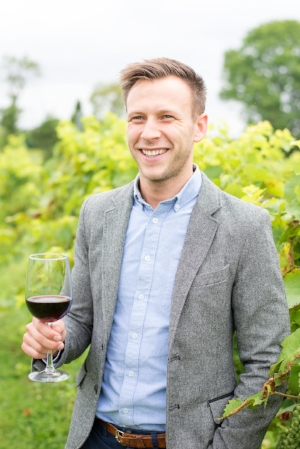 Zak Redelinghuys
Consultant
Zak
holds a bachelor's degree in finance from Stellenbosch University, located in the Cape Winelands of South Africa. It was there that he soon realized his career passions, in fact, lay in the surrounding vineyards.
After completing an MBA in food and wine at one of the select few institutions globally to offer such a program,
Zak
briefly consulted for an exporter of Italian technology in Bologna, Italy.
With well-rounded experience in PR, marketing, finance and business development,
Zak
approaches his work with creativity and vigor to drive innovation and commercial value.
Zak
's experiences with brands such as Conegliano Valdobbiadene Prosecco Superiore DOCG, Wines of Chile, and Ferrari Trento have given him an innate ability to bring to life the stories of global brands through PR and marketing.
Zak
is a native of South Africa who adapts well to the 'terroir' of wherever oenology takes him. When he's not behind his laptop, you'll find him perusing out in the vineyards, or in the kitchen cooking up a storm with a glass of wine in hand, and Sam Cooke playing in the background.
Zak
holds a diploma from the Cape Wine Academy and is always testing his palate through the discovery of unique wine regions.
Restaurant: Wolfgat in Paternoster, South Africa
City to visit: Tokyo - all the ramen!
Place to shop: A small-town Italian food market
Musician: Right now?! Some Troy Sivan
Cuisine: Japanese and Mainland Chinese
Wine: Chenin from the Swartland or Muller Thurgau and Sylvaner from Northern Italy
Beer: Any local Weiss will do
Cocktail: Negroni Sbagliato
Book: Outliers, Malcolm Gladwell
Film: The Best Exotic Marigold Hotel
Philosopher: Socrates
Richelle Corbo
Organizational Development & Operations Consultant
Richelle is a Mother, Partner, Daughter, Friend, Mental Health Therapist, LGBTQI Counselor, Social Justice Advocate, Organizational Development & Operations Consultant, Excel Guru, Certified Sommelier, Wine Sales Specialist, Wonder Woman on good days, and Nurse Ratched on bad days. She is Charles Communications secret weapon operationally and motivationally speaking.

Richelle was born into an Italian American family and grew up on the Jersey Shore. She moved to California in 2003 to pursue a career in the wine business. Richelle's passion for wine sparked when she was a bartender at an Italian restaurant in Philadelphia while going to school to earn her B.A. in Business Marketing from St. Joseph's University. After graduation, Richelle traveled to Italy in search of inspiration and found it while drinking copious amounts of Italian wine and limocello on a patio overlooking the Tuscan Hills with her brother.

When she returned to the U.S., Richelle moved to the Napa Valley to further her wine education and career. Richelle attended the Greystone Wine Program at the Culinary Institute of America in St. Helena and earned her Sommelier Certification from the Court of Master Sommeliers. While living in Napa, Richelle was the Wine Director at The Carneros Inn. Her career eventually led her to move to San Francisco where she began working in marketing and sales for Broadbent Imports. Richelle also spent time working for Indy Wines and American Wine & Spirits where she was a top performer.

After spending 10 years in the wine business, she was ready to pursue another passion, psychology. Richelle went back to school and earned a M.A. degree in Clinical Counseling Psychology from Alliant International University in San Francisco. Today, Richelle works as a Mental Health Clinician with foster children and their families at Alternative Family Services in Oakland. She also has a private therapy practice in Berkeley where she provides mental health counseling to children, teens and adults in the LGBTQI community.

Richelle keeps her toes dipped in the wine business by working with Kimberly and her team at Charles Communications Associates. She has been working as their Organizational Development & Operations Consultant since 2012.

Richelle is also trained in Psychological First Aid by the Red Cross and provides counseling and support to victims following disasters. In her spare time Richelle advocates for social justice issues at city council meetings and serves on various boards in the mental health field.

And last, but certainly not least, Richelle has an imaginative and fun-loving young son named Max who lights up her life and reminds her each day that playing is just as important as work.

Restaurant: Acquerello in San Francisco
City to visit: Florence, Italy
Places to shop: Online
Musician: Mariah Carey (You can judge a little…)
Cuisine: Italian
Wine: Altesino Brunello di Montalcino, Chateau Musar
Beer: The Rare Barrel (Berkeley, CA)
Cocktail: Tommy's Margarita (handmade in San Francisco)
Book: Goodnight Moon (with my son)
Film: The Wizard of Oz
Philosopher: Sarah Margaret Fuller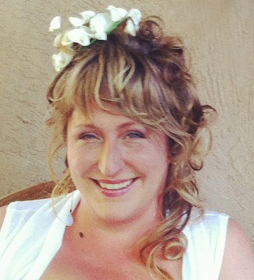 Annalee Lanier
Graphic Designer
Born in San Francisco and educated in and around New York City, Annalee Lanier has been working as an artist and a designer in various capacities for 15 years. Trained in fine art at New York's Cooper Union for the Advancement of Science and Art and at the Gerrit Rietveld Academie in Amsterdam, Annalee's experience includes mural painting, billboard design, illustration, portraiture, custom wallpaper design, print design and fine art photography. Annalee is currently working as a graphic designer at Paper City magazine in Houston, Texas, though she plans to return to the Bay Area before too long. In her free time, you will find her singing, dancing and misbehaving. A lifelong lover of language and culture, Annalee travels as far and wide as time permits.

Working with CCA, whether it's for collateral, web, logos, you name it, she has an uncanny way of imagining a look and design even better than could be imagined. We like to call her the Wizard of Ahhhs.

Restaurant: Fang, SF and Coco's Cantina, Auckland
City to Visit: Havana!
Place to Shop: Pilpeled.com
Musician: Tsegue-Maryam Guebrou
Cuisine: Gourmet Ramen
Wine: Russian River Valley Pinot Noir
Beer: Saison
Book: Grendel (John Gardner)
Film: Deerhunter
Philosopher: Louis C.K.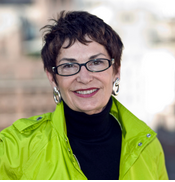 In her 20 years at the helm of Cornerstone, Marsha has built the agency's reputation on its proven ability to create awareness for lifestyle brands from around the world. Previously, Marsha was Vice President, Public Relations for Schieffelin & Company (now Moët Hennessy USA) where she managed media relations and special events campaigns for Moët & Chandon, Dom Pérignon, Hennessy Cognac, Marqués de Riscal, Simi and Domaine Chandon. Her career began as Assistant Director of Public Relations at Sopexa/Food & Wines from France, implementing US campaigns for French luxury foods, wines and spirits.

Marsha is a board member of Les Dames d'Escoffier, New York City Chapter, an international association of leading women in the hospitality field and serves as a trustee to CancerCare©. She holds a Masters degree in Medieval French literature from Kent State University.
A woman of diverse interests, Marsha collects artwork by female artists, enjoys exotic travel – frequently on a bike – and delights in gardening on her Manhattan terrace. A seven-time marathon runner, she believes fitness is really only a means to enjoying a good meal. An avid cook, she studied at the Cordon Bleu in Paris as well as with Mario Batali at the Capezzana Cooking School in Tuscany.
CCA works with an extended network of writers, publicists, graphic designers, award-winning videographers and photographers who represent the best in their field. For special focus or for additional team support, we call upon a veteran team of professionals to help us at any stage of a client project to supplement our work with additional brainpower and energy. Our flexibility as a firm allows contractor talent to pursue several projects and lend to CCA a level of experience and wisdom that is priceless.