2016 Beaujolais Nouveau Celebration at Mon Ami Gabi
8 November, 2016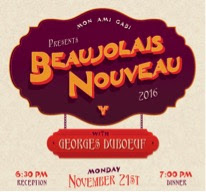 MON AMI GABI PRESENTS:
2016 BEAUJOLAIS NOUVEAU CELEBRATION
Featuring Les Vins de Georges Duboeuf
Monday, November 21, 2016
WHO: Celebrate the much-anticipated release of the 2016 Beaujolais Nouveau vintage at Mon Ami Gabi! The Reston, Virginia location of the classic French bistro is teaming up with the leader in the Beaujolais category, Les Vins de Georges Duboeuf, to bring you a special wine pairing dinner, showcasing four Beaujolais wines paired with a seasonal menu from Executive Chef Phil Frederick.

WHAT: Beaujolais Nouveau symbolizes the end of the growing season and an invitation to partake of autumn's bounty. No other wine is released annually with such anticipation, made and released as a finished product only four-to-six weeks after being handpicked off the vine - literally putting a cork on the end of harvest. November is the time to celebrate Beaujolais Nouveau after it's released (famously on the third Thursday of November) and wine lovers everywhere are counting down to the revelry around the wine that's as beloved with turkey and roast chicken as it is with good friends, rosy cheeks and boisterous shouts of Le Beaujolais Nouveau est arrivé! #FirstWineOfTheHarvest

The pinnacle Nouveau Day event in the Washington, D.C. metro area kicks off at Reston's Mon Ami Gabi with a thoughtfully paired tasting menu that includes:

Garlic Sausage & Creamed Brussels Sprouts with Dijon mustard
Shellfish Cassoulet with mussels, scallops, shrimp and white northern beans
Spiced Red Wine Poached Pear & Brown Butter Tart with almond granola and vanilla ice cream

Click here for the complete menu and wine pairings.

The event is priced at $70 per person (tax and gratuity not included). Space is limited; please call Mon Ami Gabi at 703-707-0233 or email Melissa at mswaringen@leye.com to secure your spot. A limited number of media passes are available, please contact Charles Communications Associates at 415|701-9463 or press@charlescomm.com.

Can't make the dinner? Celebrate the Beaujolais release with Mon Ami Gabi all week with à la carte specials.

WHEN: Monday, November 21st from 6:30pm – 9:00pm

WHERE: Mon Ami Gabi, 11950 Democracy Drive, Reston, VA 20190 703.707.0233
MORE:
Mon Ami Gabi is a classic French bistro from
Lettuce Entertain You Enterprises
. The menu highlights traditional dishes including Onion Soup Au Gratin, Trout Almondine, Wild Escargots de Bourgogne and the trademark Steak Frites alongside seasonal specialties. T o complement the food, an extensive selection of more than 80 boutique French wines – handpicked by renowned chef and owner Gabino Sotelino – are served from the restaurant's signature rolling wine cart.
Don't forget to post your Nouveau experience to social media and follow the celebrations nation-wide!
Hashtag: #FirstWineOfTheHarvest
| | |
| --- | --- |
| Facebook: MonAmiGabiRTC | @GeorgesDuboeuf |
| Twitter: @MonAmiReston | @GeorgesDuboeuf |
| Instagram: @MonAmiGabiBistro | @DuboeufWines |
5 Beaujolais Nouveau Facts
Beaujolais Nouveau is the world's freshest wine - it takes about 60 days for its grapes to go from vine to glass, seeing no oak and only a short time in bottle.
All Beaujolais Nouveau grapes must be picked by hand (Beaujolais & Champagne are France's only regions where hand harvesting is mandatory).
Beaujolais Nouveau owes its fresh, juicy style to the winemaking process called 'carbonic maceration' which facilitates gentle, whole berry fermentation.
Serve Beaujolais Nouveau slightly cool, at about 55 degrees (F). Even though it's red, this fresh wine is most refreshing, fruit-forward & food-friendly when chilled.
Beaujolais Nouveau Day was historically on November 15th until 1985. Now, under French law, Beaujolais Nouveau is always released at 12:01am on the third Thursday of November. The reason? It's France's excuse to celebrate its 100+ Nouveau Day festivals over a four-day weekend, every year!
CONTACT:
For media inquiries and interviews, please contact Charles Communications Associates at 415|701-9463 or
press@charlescomm.com