Mendocino Coast's 35th Annual Winesong! Announces Jackson Family Wines as Vintner of the Year
2 July, 2019

Mendocino Coast's 35th Annual Winesong! Announces Jackson Family Wines
as Vintner of the Year
Mendocino's premiere annual charity auction and wine/food tasting will be held September 6-7, 2019
Mendocino Coast, CA, 2 July, 2019 – It was announced today that Jackson Family Wines will be honored as 2019 Vintner of the Year at Mendocino Coast's annual Winesong. The region's Vintner of the Year designation is always a highly-anticipated award, and is especially significant this year as Winesong celebrates its 35th anniversary as Mendocino Coast's capstone event. Set along the picturesque Mendocino coastline, the beloved two-day festival will take place September 6th and 7th 2019, and is both a showcase of the region's exquisite wines as well as special wines from Napa, Sonoma, Oregon and beyond. The weekend event offers a full entertainment experience, characterized by local wineries, breweries and cideries, as well as regional culinary vendors, fine art, music, and charitable giving.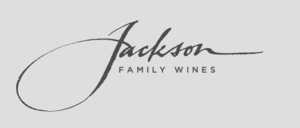 Jackson Family Wines Chairman & Proprietor Barbara R. Banke said, "I am honored to be named Winesong's Vintner of the Year. My family has grown grapes in Mendocino County for more than 25 years and we've long believed the wines stand among the best in the world. We're proud to support the region's premier event that also gives back to vital health services in the community."

The Jackson family has long been committed to Mendocino County. They acquired the Edmeades Estate in 1988 after falling in love with the Anderson Valley's rugged beauty and distinctive wines. In addition to making Edmeades wines, the family also owns and farms the Skycrest, Sable Mountain, Edmeades and Maggy Hawk estate vineyards in the Anderson Valley. Their Maggy Hawk wines are dedicated to showcasing the region's nuanced and elegant Pinot Noir. Today, several wineries within the family's portfolio of wines, including Hartford Family Winery, Copain, Windracer, La Crema and Kendall-Jackson, continue to craft world class wines from estate vineyards and other exceptional sites in the Anderson Valley.

Winesong is hosted by the Mendocino Coast Hospital Foundation, and has raised more than $8 million to date for improvements in local healthcare, including equipment, facilities and services at the Mendocino Coast District Hospital. The centerpiece of Winesong weekend is always the Charity Auction, which will take place Saturday, September 7th, featuring both a silent and live auction (Silent Auction: 11am–3pm; Live Auction: 2pm–5pm. Celebrated author, writer and former Winesong Auction Director, Norm Roby, will serve as Honorary Auction Chair. Roby founded the Charity Auction and has been its beating heart for 30 years, "I am happy to be back for the 35th anniversary to reunite with those who attend and contribute to my favorite event. I like to think I still keep the exclamation mark in Winesong!"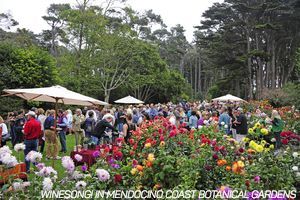 In addition to honoring Norm Roby and Jackson Family Wines, Winesong will also honor longtime donor Karen Bowers as its 2019 Artist of the Year. Nationally and locally recognized for her evocative watercolor paintings, Bowers' artwork will be featured on the official Winesong poster - always a treasured commemorative keepsake for event attendees.

A Pinot Noir Celebration will kick off the weekend on Friday, September 6th (from 1-4pm) when guests will enjoy 35 outstanding wineries (in celebration of 35 years!) in an intimate setting at the Little River Inn (two miles south of Mendocino Village) accompanied by a taste of the Inn's famous culinary delights. Tickets are $85 and can be purchased here.

The Winesong Wine & Food Tasting will take place Saturday, September 7th, from 11am–2 pm in Fort Bragg's lush Mendocino Coast Botanical Gardens, featuring world-class wineries from Mendocino, Sonoma, Napa, and beyond, as well as live music and regional bites from local gourmet food purveyors (see list of past wineries and epicurean participants here).

Radio and television wine personality Ziggy Eschliman (aka Ziggy the Wine Gal from The Krush 95.9 FM)) will build excitement as the newly appointed Auction Chair with lively bidding in the auction tents for nearly 200 live and silent lots, featuring spectacular wines from the world's most prestigious wine producers, rare vintages, large format bottles plus special vertical and horizontal collections. Other auction highlights include original art from acclaimed California artists and photographers (including work by the renowned local photo-artists George Rose and Andy Katz), as well as highly coveted international wine getaway packages to South Africa, the Caribbean, and a six-night castle stay for up to six people in Mazzo di Valtellina, Italy, including a personal concierge to arrange comped private wine tastings, VIP historical tours, and a wine-paired dinner on Lake Como.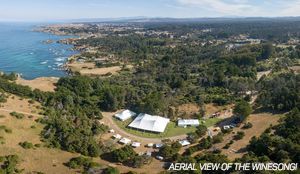 General Admission tickets are $150.00, and include a commemorative glass and plate, full access to the tasting & Silent Auction, and festival seating around the Live Auction tent. Auction Reserve tickets are $250.00 and include all of the above plus reserve seating, reserved parking and a commemorative tote bag, with wine and lunch in the Live Auction Tent. The Mendocino Coast Hospital Foundation thanks ticket holders for their support of its hospital!

A full list of events along with ticket purchase information (including pre-sale) can be found at winesong.org/events/purchase-tickets/. Directions to all events can be found here, along with a generous Winesong shuttle schedule from a wide array of pickup/drop-off locations. For more ticket and logistical information, email ellen@mchfoundation.org.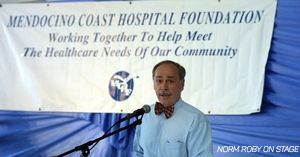 About Winesong!
Winesong is an annual charity auction and wine + food tasting produced by the Mendocino Coast Hospital Foundation. Proceeds are used to enhance equipment, facilities and services at the Mendocino Coast District Hospital. The Diagnostic Imaging Center, Medical Evacuation Helipad, Out-Patient Surgical services and Emergency Department Equipment are just a few of the vital areas that Winesong funds have enhanced. Since 1985 Winesong has raised over $8 million for improvements in local healthcare.

Head to mchfoundation.org/about-us/what-we-support/ for a comprehensive list outlining previous years' capital improvements funded by Winesong proceeds and donations from the Mendocino community.

About the Mendocino Coast Hospital Foundation
Since 1984 the Mendocino Coast Hospital Foundation has engaged in fundraising and community activities to provide support for vital equipment and services at Mendocino Coast District Hospital. The hospital's unique rural locale presents an environment in which the provision of comprehensive hospital services and up-to-date equipment is a tremendous challenge. The Hospital Foundation exists to help the Hospital and our community to meet these challenges.

About Jackson Family Wines
Jackson Family Wines is a family-owned wine company with a penchant for exploration. Founder Jess Jackson placed his faith in farming and a meticulous expression of wine with his first landscape-changing vintage in 1982, an ethos that chairman and proprietor Barbara Banke, the Jackson family and the company's employees continue to uphold to this day. The family's collection of 40 wineries span significant winegrowing regions across the globe, from California, Oregon, France and Italy in the northern hemisphere, to Australia, Chile and South Africa in the southern half of the globe. Artisan winemaking underscores a steadfast commitment to making exceptional wines in the most responsible manner. The Jackson family's focus on vineyard ownership remains key to consistent high quality and environmental stewardship for future generations. To learn more, please visit: www.jacksonfamilywines.com

For press inquiries and images, please contact Kimberly Noelle Charles of Charles Communications Associates at press@charlescomm.com or 415.701.9463.
###