Oregon Craft Saké Brand Momokawa Announces Package Refinement
16 March, 2015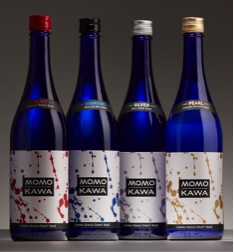 Oregon Craft Saké Brand Momokawa Announces Package Refinement
America's #1 Craft Saké Brand Momokawa Announces Label Relaunch
Forest Grove, OR
– The advent of spring always signals fashion week in NYC and Milan and appropriately this March, Momokawa, the number one craft saké brand in the United States, is unveiling striking new label colors for their award-winning SKUs.
Momokawa's top-selling line of ultra-premium junmai ginjo saké is refreshed in new colors and matching closures representative of their jewel-inspired names. The pioneering Oregon-based craft saké brewer modified the packaging in such a way that the new colors pop off the shelves allowing consumers to clearly differentiate and locate each Momokawa saké variety. The striking colors bring to life the accompanying, iconic splatter design labels originally created by master label designer Jeffrey Caldewey.
"The color refinement is a direct result of observations by both retailers and consumers that the differences between the bottles were very subtle and hard to differentiate," says Brian Lynch, VP of National Sales for SakéOne.
For ease of consumer identification, America's number one ultra-premium saké
[1]
, Momokawa Diamond, will retain its original blue label color and Momokawa's ultra-premium organic products will retain their original green label color.
Within each newly dressed bottle, the award-winning craft saké that makes Momokawa America's #1 craft saké brand remains the same.
The new labels will launch this spring, 2015; the new Pearl label will release mid-March, the Silver label late April, and the Ruby label April to early May.
Consumers and trade professionals can see the new packaging in person at several upcoming events, including: SF Vintner's Market, April 11-12, Saké Fest PDX, June 25, Tales of the Cocktail New Orleans, July 15-19, SF Outside Lands, August 7-9, and Joy of Saké NYC, September 18.
Label launch support materials are available upon request, including a trifold brochure, printable 6-up shelf talkers, and bottle images.
About Momokawa Saké:
Momokawa is Oregon craft Junmai Ginjo saké, brewed with time-honored techniques and the pioneering spirit of the Pacific Northwest. Launched in 1998, Momokawa was the first commercial craft saké brand in America, and the first saké brewery in Oregon.
According to the latest Nielsen statistics that tracked the last 52 weeks of sales up until January 3, 2015,
Momokawa is America's number one craft saké brand, America's second largest selling ultra-premium brand in retail, and Momokawa Diamond is America's number one ultra-premium saké.
For interviews, images and media information, please contact Kimberly Charles at Charles Communications Associates at press@charlescomm.com or 415|701-9463.
# # #
---
[1]
Nielsen 52 weeks through January 2015