Oregon's SakéOne Hosts Annual Kura Blessing at Forest Grove Kura
6 October, 2014

Oregon's SakéOne Hosts Annual Kura Blessing
Forest Grove, Oregon –
SakéOne, America's premium saké producer and importer, held its eighteenth annual Kura Blessing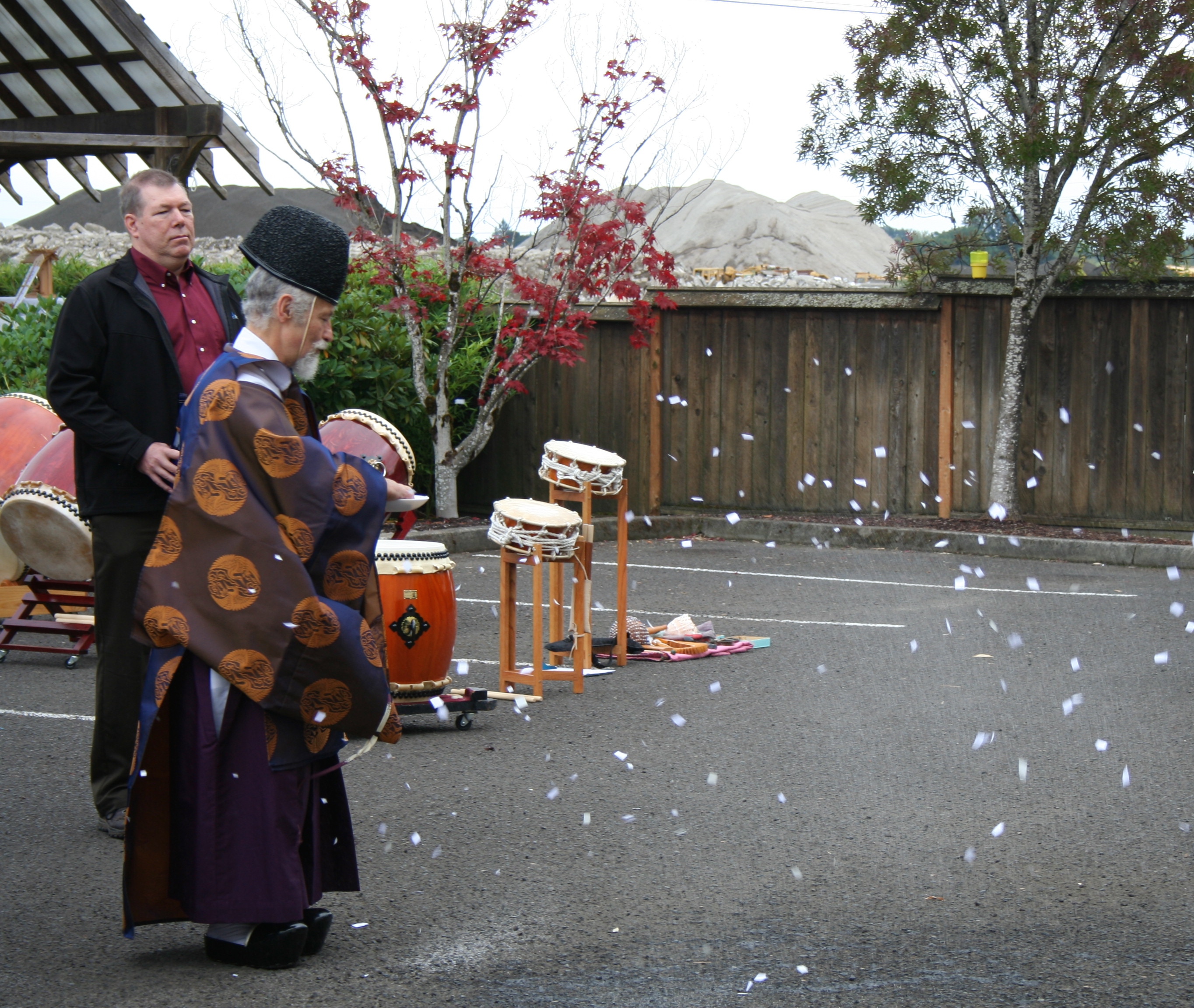 Ceremony in anticipation of World Saké Day October 1st, which marks the beginning of the traditional Japanese saké brewing season. The ceremony, which is rooted in ancient Shinto tradition, is intended to cleanse the brewery and ward off mischievous spirits.
The Reverend Koichi Barrish, of the Tsubaki Grand Shrine in Granite Falls, Washington, the first American to ever earn the distinction of being named a Shinto priest, presided over the ceremony, as has been the tradition for 18 years. His reverence for the tradition of paying respects to the saké kami (nature spirit) was evident in the precision of his movements and in his close adherence to the longstanding rituals of the kura blessing in the Shinto tradition. Performing the ceremony in both English and Japanese, the Reverend sprinkled rice grains and cleansed the four corners of SakéOne's Forest Grove facility with a ritual offering of saké intended to satisfy the evil spirits that might try to occupy the kura. He then scattered salt and handfuls of sand from a sacred Japanese mountain and evicted the pacified spirits with a wave of his harai-gushi (a tasseled wand used in traditional Shinto ceremonies).
As an extra precaution, the ceremony concluded with a gregarious performance by the Eugene Taiko drummers, which inevitably succeeded in frightening away any spirits stubborn enough to resist the Reverend's enchantments.
Following the service, attendees were invited to taste some of SakéOne's specially priced, world-class, imported offerings in honor of Saké Day. The tastings, designed to showcase the brewing styles associated with different regions of Japan, were served alongside a feast of Japanese food prepared by Wassabi, a pan-Asian restaurant located in nearby Hillsboro.
To see a video of the kura blessing ceremony from a previous year, please click
here
.
About SakéOne
SakéOne is America's first craft saké producer and compliments its own fine products with a growing portfolio of fine Japanese saké imports. Its Oregon craft saké brands Momokawa, Moonstone, and g Saké are joined by import brands Murai Family, Yoshinogawa, Kasumi Tsuru, SakéMoto, Hakutsuru, KIBO and Tombo. A leader committed to saké education at the wholesale, retail and consumer levels, SakéOne is focused on expanding the enjoyment of premium saké in the United States. For more information, visit SakéOne's website at
sakeone.com.
For media information and interviews, please contact Kimberly Charles of Charles Communications Associates at
press@charlescomm.com
or 415|701-9463.
# # #