River Network Celebrates Silver Anniversary and a Successful River Rally in St. Louis, Missouri: Announces Search for the Next Visionary Leader of River Network
30 May, 2013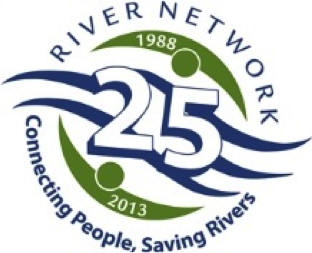 Portland, OR – River Network, the leading conservation organization for the river and watershed community in the United States, commemorates its 25th anniversary this year, and just wrapped up a successful 14th annual River Rally in St. Louis, Missouri. Over 425 leaders in river and watershed conservation gathered from 44 states and Canada to engage, celebrate and deepen their knowledge of the clean water movement. After Rally, longtime partner, board member and most recently President of River Network, Todd Ambs announced that he would be leaving River Network to return to his home watershed – The Great Lakes.

Ambs, who originally joined River Network as a partner over a decade ago, has served as a board member and chair until he was appointed President three years ago. He will be leaving to accept the position of Campaign Director of the Healing Our Waters-Great Lakes Coalition. The Coalition works to restore and protect the Great Lakes. Ambs says of his departure, "It's with a heavy heart that I leave an organization near and dear to me. However, it's time for me to return to Wisconsin and continue my contribution to the clean water movement at the regional level in a new capacity." Ambs continued, "River Network is in a better place than ever before with its strategic plan well underway, and a fully aligned board and staff as well as a healthy budget of $2.6 million. We now work with over 2,000 state, regional and local grassroots river and watershed groups around the country, and our staff members will continue the great work we've undertaken after adopting our current strategic plan in 2010."

River Network Board Chair Suzi Wilkins Berl states, "It's an exciting time for River Network and the river movement. Rally this year was one of the most high-energy and spirited of late, and that's a testament to the increasing momentum we are gaining with our partners, volunteers, staff and board. We will miss Todd and know he will remain part of our larger connected water community. All of River Network's programmatic work will proceed as planned. We operate five main programs: Mobilization, Organizational Development, Partner Group Services, Educational Programs and Water, Energy and Climate Change program. Todd leaves us in an excellent position. In addition, the five program leaders have over 90 combined years of experience in the conservation community and over 50 years with River Network. River Network seeks a motivated, high energy, collaborative and creative leader to guide us to our next level."

A transition team has been formed, and the national search is expected to take several months to identify the best candidate for the position. The President will be based in Portland, Oregon where River Network has been headquartered since its inception. An interim director will be appointed by the River Network board upon Ambs departure on June 30, 2013. Interested candidates for the permanent President's position should contact Suzi Wilkins Berl, Board Chair of River Network at ennalls@att.net. Until an interim director is appointed, please contact Todd Ambs with questions at TAmbs@rivernetwork.org. Media should contact board development and communications chair, Kimberly Charles at kcharles@charlescomm.com or 415-730-0064.

About River Network

For twenty-five years, River Network has empowered and united people and communities to protect and restore rivers and other waters that sustain the health of our country. River Network envisions a future when every person knows their watershed and is an active caretaker of their local river, lake, stream or bay. The organization works for the day when all people, fish and wildlife have access to clean plentiful water. The headquarter staff in Portland, OR and field staff in Vermont, Maryland, North Carolina, Utah and Idaho work closely with thousands of watershed protection groups from coast to coast – building the capacity of state and local groups, assisting people grappling with water and environmental health problems, protecting habitat for fish, wildlife and people, developing blue cities through green infrastructure, and reducing our country's use of water and energy.
# # #