​Laurel Glen to Host Signature Sonoma Valley's Annual Retrospective Tasting on May 18th
4 March, 2019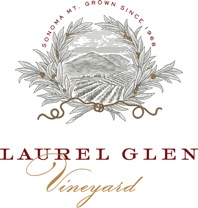 Laurel Glen to Host Signature Sonoma Valley's Annual Retrospective Tasting on May 18th
Glen Ellen, CA, 4 March, 2019 – Laurel Glen Vineyard, is pleased to announce it will host a very special tasting during the third annual Signature Sonoma Valley vintage retrospective, during the Sonoma Valley Vintners & Growers Alliance's flagship weekend event series. The iconic Sonoma winery will host the tasting at its eponymous Sonoma Mountain estate vineyard on Saturday, May 18, 2019 (from 2-4:30pm).

The tasting will bring together wine aficionados and collectors for an extremely rare showcase of Laurel Glen vintages across four decades. Current winemaker Randall Watkins will be joined by the estate's founding winemaker, Patrick Campbell, as well as Proprietor and Managing Partner Bettina Sichel and winegrower Phil Coturri to provide 'behind the vine' perspectives. This special event will be moderated by Esther Mobley, wine critic and journalist at the San Francisco Chronicle, who will provide insight and perspective on the nuances of each vintage.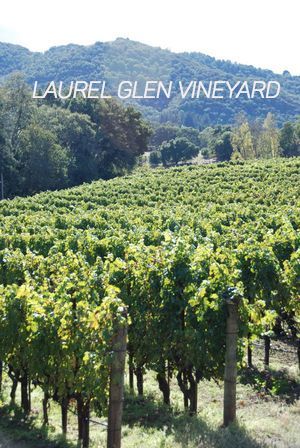 "We could not be more thrilled to host this year's retrospective tasting," says Sichel. "We are especially honored that Esther Mobley has accepted our invitation to moderate, and look forward to an illuminating discussion. We recently tasted through the 15 vintages we've selected to pour and were impressed with how well they showed. I cannot wait to share these rare wines with a new audience at Signature Sonoma on May 18th!"

The retrospective will commence with Laurel Glen's debut 1981 vintage, and include a curated selection of 15 vintages spanning four decades that demonstrate the winery's consistent depth, elegance and focus. The winery's signature sophisticated style has never wavered since it joined the ranks of first generation "cult" Cabernets from California in the 1980s, and – thanks to the ongoing policy of holding back a portion of cases upon release – Laurel Glen has become known for its deep library of wines from the 1980s, 1990s and 2000s; many of which are featured on some of America's most prestigious restaurant wine lists, including French Laundry in the Napa Valley, Mastro's Steakhouse in Houston and Gotham Bar & Grill in New York City.

Though tickets for the Signature Sonoma Valley retrospective are nearly sold out, Laurel Glen will also offer a special library flight the weekend of May 17-19 in the estate's Glen Ellen tasting room. The Cabernet Sauvignon vintages offered in the flight will evoke the spirit of the retrospective and include the 1986, 1999 Reserve, 2006, 2009, 2012 Lot 44. Cost will be $75 per person and guests should plan to reserve at least 48 hours in advance.

Laurel Glen wines will also be featured in the Legends: Collector's Dinner at 6:30pm on May 18th, the capstone event of Signature Sonoma Valley, which celebrates the heritage vineyards of the region. Tickets can be purchased here.

Signature Sonoma Valley is an exclusive, four-day immersion into the acclaimed wines, historic vineyards and welcoming community of Sonoma Valley. Tickets for all events are now on sale and available at SonomaValleyWine.com/Signature-Sonoma-Valley. Seating is limited and all events will sell out, so early purchase is strongly recommended. For more information, please call 707.935.0803 or visit SonomaValleyWine.com.

"Signature Sonoma Valley shapes how wine collectors view Sonoma Valley as a wine region, and we could not be more thrilled to showcase over three decades of Laurel Glen vintages in the capstone retrospective tasting," said Maureen Cottingham, Executive Director of the Sonoma Valley Vintners & Growers Alliance. "Our greatest hope is that guests will leave Signature Sonoma Valley with a deeper connection to our vineyards and an appreciation for the caliber of wines coming out of Sonoma Valley, and Laurel Glen's impressive track record more than supports that message."


About Laurel Glen Vineyard
Laurel Glen Vineyard wines have a proven track record for longevity and grace. They are among the most sought-after examples of classic California Cabernet Sauvignon, and can thus offer a true study in how the variety can perform from a great vineyard site.

Originally planted to mixed red varietals by German immigrants at the end of the 19th century, Laurel Glen vineyard was replanted to Cabernet Sauvignon in 1968 on the eve of a modern proliferation of vineyards in California. Today, the 14-acre estate is farmed organically and planted entirely to Cabernet Sauvignon, and in particular the Laurel Glen clone of Cabernet Sauvignon, certified as a unique clone by the University of California at Davis.

In 2011, Bettina Sichel, a veteran of the California wine industry, became the steward of Laurel Glen Vineyard. Among other quality oriented improvements, she has overseen the vineyard's transition to CCOF organic certification in 2014.

About the Sonoma Valley Vintners & Growers Alliance and Foundation
The Sonoma Valley Vintners & Growers Alliance (SVVGA) is a non-profit trade organization serving more than 500 members who share a mission to promote awareness of Sonoma Valley's grapes, wine, and history as the birthplace of the California wine industry. Sonoma Valley comprises six of the 17 American Viticulture Areas (AVAs) of Sonoma County: Bennett Valley, Los Carneros, Moon Mountain District, Sonoma Coast, Sonoma Mountain, and Sonoma Valley. The Sonoma Valley Vintners and Growers Foundation (SVVGF) is a non-profit 501(c)(3) organization that has raised more than $25,000,000 through Sonoma Wine Country Weekend and supports youth and children for future success, preserving our environment, and improving health and welfare of our local communities. For more information on the SVVGA and SVVGF, please visit www.SonomaValleyWine.com.

For press inquiries and images, please contact Charles Communications Associates at press@charlescomm.com or 415.701.9463.