Bennett Lane Winery Launches Social Media Contest To Name Their New Hot Air Balloon
2 August, 2012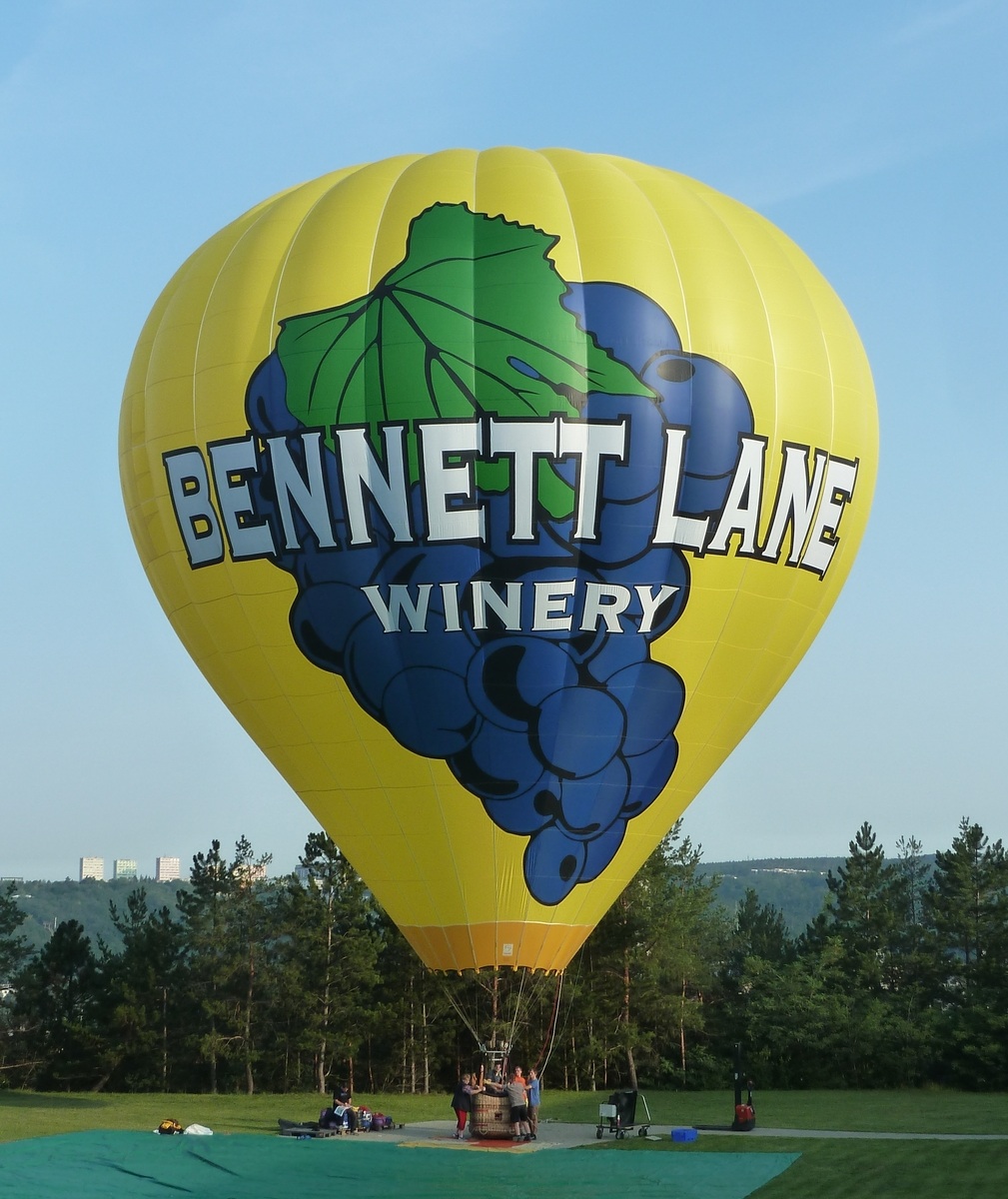 Calistoga, CA—Bennett Lane Winery just announced the launch of their "Name the Bennett Lane Balloon" contest, in which the winery's fans, followers and members of the public of legal drinking age are invited to submit names for Napa Valley's first winery branded hot air balloon via social media. Winery owners Randy and Lisa Lynch will choose the winning name, which will be announced at a press conference at the balloon's official launch on Wednesday, August 15th, as well as on the winery's website, Facebook and Twitter accounts. The person who submits the winning name will receive several fantastic rewards, including an hour-long flight for two over Napa Valley in the new balloon, a complimentary reserve wine tasting, and a sleek, fitted black jacket and hat emblazoned with the Bennett Lane Winery logo.
Entries for the name will be taken starting today on the winery's website at the page accessible via this link. Participants and the public are invited to keep up with the contest by visiting the winery's Facebook fan page, and by following Bennett Lane Winery on Twitter at @BennettLane and searching for the #nametheballoon hashtag.
The contest will be closed for submissions at 5 pm on Sunday, August 12th. The winning name will be announced by special guest, baseball legend Tony La Russa, at the winery's official balloon launch on August 15th.
Bennett Lane will also be tracking the flight of the balloon from the Czech Republic, where it was made by Kubicek Balloons, as it is delivered to the Napa Valley. You can also track the voyage of the balloon, which stands 67 feet high and has an envelope capacity of over 140,00 cubic feet of air, by following @BennettLane on Twitter.
About Bennett Lane Winery
Founded by Randy and Lisa Lynch in 2003, Bennett Lane's off-the-beaten track location and friendly tasting room offer visitors to Napa a "secret gem" and a great way to learn about—and try—some of Napa's best wines in a more intimate setting. Bennett Lane's wines include: a Napa Valley Cabernet Sauvignon ($55); a limited production Reserve Napa Valley Cabernet Sauvignon, ($95); Maximus ($35)—a blend of Cabernet Sauvignon, Merlot, Syrah, Malbec and Petit Verdot—"a red feasting wine"; Los Carneros Reserve Chardonnay ($45); White Maximus, a blend of Sauvignon Blanc, Chardonnay and Muscat ($28) and a limited production Port-style Dessert Wine ($60).
Located at 3340 Highway 128, approximately two miles north of Calistoga, Bennett Lane's tasting room is open daily from 10:00 am to 5:30 p.m. by appointment. Tours may be made in advance by calling 707.942.6684, or toll free at 1.877.629.6272.
For more information please contact media relations representative Katie Hunter at Charles Communications Associates at Katie@charlescomm.com, 415-701-9463; or Stefanie Longton, General Manager of Bennett Lane Winery at 877-629-6272.
# # #