Anderson Valley Winegrowers Association Announces 22nd Annual Anderson Valley Pinot Noir Festival May 17-19
4 March, 2019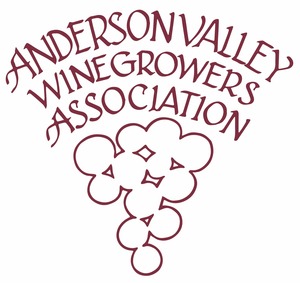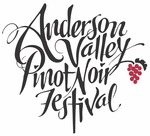 Anderson Valley Winegrowers Association Announces
22nd Annual Anderson Valley Pinot Noir Festival May 17-19
Three-day wine event focuses on wines made from Pinot Noir grapes exclusively grown in Anderson Valley
Anderson Valley, CA, 4 March, 2019 –
The
Anderson Valley Winegrowers Association
is pleased to announce that the 22nd annual
Anderson Valley Pinot Noir Festival
will take place May 17, 18 and 19, 2019. Wine lovers are invited to sip, sample and savor Anderson Valley Pinot Noir (plus rose and sparkling wines) from more than 50 producers, enjoy mouth-watering food pairings by the region's best chefs and local caterers, and listen to live music while bidding on exquisite auction lots for local charity.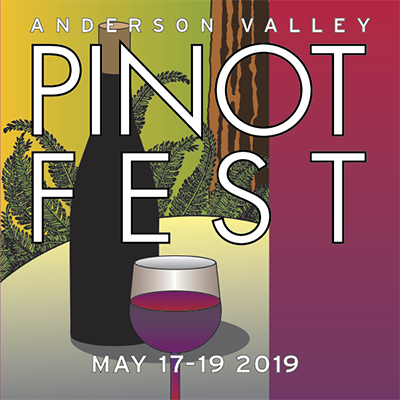 The much-anticipated weekend's events range from educational seminars to a live music BBQ, grand tasting, winemaker dinners and free winery open houses – all hosted amidst the spectacular beauty of Anderson Valley's vineyards and towering redwood trees. Music lovers will be happy to learn about an added bonus – this year Camp Navarro will host a concert on Saturday evening. The events have achieved a loyal following for being distinctively uncrowded and unpretentious, with an array of Pinot Noir styles that serve as the ideal introduction (or refresher course!) to the Anderson Valley.
"We could not be more thrilled to celebrate the 22
nd
annual Pinot Noir Festival," says Kristy Charles, President of the Anderson Valley Winegrowers Association and Owner of Foursight Wines. "Our aim is that revelers will leave the festival with a deeper connection to our vineyards and an appreciation for the caliber of wines coming out of Anderson Valley."
A full list of events can be found below, as well as at
avwines.com/pinot-noir-festival.
Anderson Valley Pinot Noir Festival Lineup - Friday 5/17, Saturday 5/18, Sunday, 5/19:
Friday Technical Conference
(9:30am – 4:30pm)
$100
Camp Navarro
Attend a full day of educational seminars about winegrowing and winemaking. There are many winemakers who are spearheading the effort this year and it will be a Tech Session you don't want to miss! Plan to taste wine from neutral barrel and have a lively discussion on vineyard microclimates + and selling AV in the marketplace. A light breakfast & full lunch is included.
Friday night Casual BBQ
(5pm – 8pm)
$60
Goldeneye Winery

Limited tickets left – already almost sold out!
A delicious meal, stunning views and live music. Everyone is encouraged to bring a bottle of wine to share. It's an eat, drink, and boogie down kinda night!
Saturday Grand Tasting
(12pm – 4pm)
$130

DD Tix $75
Camp Navarro

Bring friends, stay onsite or book in AV or the Coast – rooms are filling up!
Taste world-class Anderson Valley Pinot Noirs from more than 50 producers beneath towering red woods. Savor perfectly paired foods designed to complement the exceptional Pinot Noir from Anderson Valley.
Saturday Winemaker Dinners
(6pm – 9pm)
Varied
Various locations
Small & intimate dinners to be held throughout different restaurants within the valley, plus one on the coast!

Tickets on sale at noon, March 15th. Dinners sell out quickly!
Saturday Buffet Dinner and/or Concert: Tracorum & The Real Sarah's

Tickets open to non-PNF attendees!
Concert Only $25

+ Dinner = $55
Camp Navarro


Tentative schedule:
Band 1: 5:00-6:15
Dinner: 6:00-7:30
Band 2: 7:30-10
Campfire: 10pm

Tracorum & The Real Sarah's performance under the redwoods. Stay onsite of the Grand Tasting & evening events! Cabins, yurts, tents & RV hookups available. Bring your own bedding and sleeping bag. Rentals for Camp Navarro overnight are typically $30 per person/bed, as required.
Sunday Winery Open Houses
(11am – 5pm)
Complimentary

Wineries Throughout Anderson Valley

Stop at participating winery tasting rooms with the purple flags for a little extra wine tasting, more music, delicious bites, and special wine sale discounts. A great way to bookend the weekend before getting back to ... the real world...
Tickets are available for individual events as well as for weekend packages. Discounted ticket packages are available when booked together, and limited. Winemaker dinners will be announced on Friday, March 15 at noon and often sell-out quickly.
Sign up for the AVWA mailing list
to be informed of event updates. Tent and cabin accommodations at Camp Navarro are available Thursday through Sunday on their website:
campnavarropresents.com/anderson-valley-pinot-festival
.
Event tickets are limited and will sell out, so early purchase is strongly recommended. For more information, please call 707.895.9463 or visit
avwines.com/pinot-noir-festival.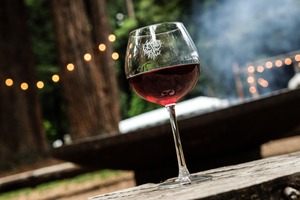 About Anderson Valley
Anderson Valley, located less than 100 miles north of San Francisco, is an area blessed with a temperate cool coastal climate. Classified in viticultural terms as a Region 1 growing area, this designates it as the coolest climate in which grapes may be commercially grown with any success. Cutting laterally through the coastal range rather than lying between ridges, the west or "deep end" of the Anderson Valley is only a few miles from the cold Pacific Ocean, while the town of Boonville is some 20 miles to the east. The combination of warm sunny days and cool foggy nights and mornings allow the grapes from this region to mature slowly and to develop to the height of their varietal character. The planted acreage in the Anderson Valley consists primarily of Pinot Noir, Chardonnay, Gewürztraminer, and Riesling. There are also small acreages of other varietals such as Sauvignon Blanc, Pinot Gris, and Merlot.
In addition to producing superb Pinot Noirs and Alsace varietal wines, the valley is home to three
methode champenoise
sparkling houses.
About the About the Anderson Valley Winegrowers Association
The Anderson Valley Winegrowers Association (AVWA) is a not-for-profit trade group created in 1983 to promote the grapes and wines of the Anderson Valley winegrowing appellation. The AVWA is supported through the dues paid by its membership, generous sponsorships, and proceeds from the festivals and events the association produces each year.
Along with promoting the Anderson Valley as a viticultural region, AVWA also works to build its community. To date over $400,000 has been donated to local community groups such as the
Anderson Valley Health Center
,
Anderson Valley Housing Association
,
Anderson Valley Ambulance
, the
Anderson Valley Fire Department
, as well as the
Community Foundation of Mendocino County Disaster Fund
for the most recent fire relief and recovery efforts. For more information on the AVWA, please visit
www.avwines.com
.
For press inquiries and images, please contact Courtney DeGraff of the Anderson Valley Winegrowers Association at
courtney@avwines.com
or 707.895.9463 or reach out to Kimberly Charles of Charles Communications Associates at
press@charlescomm.com
or 415.701.9463.
###