Bennett Lane Winery Launches First Winery Branded Hot Air Balloon in California Wine Country
16 August, 2012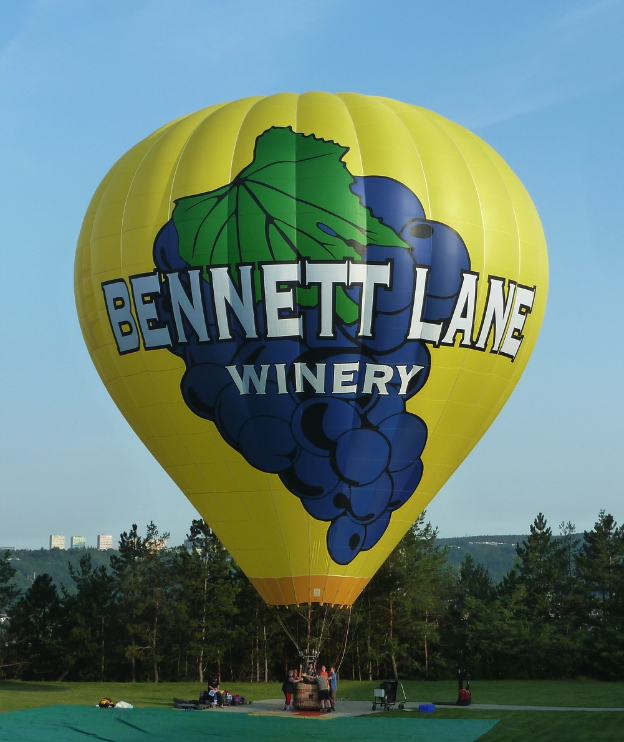 Calistoga, CA—Bennett Lane Winery launched its branded hot air balloon on its inaugural flight at 6:30 AM PST today. For its maiden voyage of one hour, the balloon carried six passengers on a journey over the Napa Valley, providing views of the lush pre-harvest vineyards and rolling hills below from approximately 3,000 feet in the air.
The first winery branded hot air balloon in California, the Bennett Lane Winery balloon was built by Kubicek Balloons in the Czech Republic. The balloon stands 67 feet high when inflated and has a diameter of 65 feet. It took over a month of sewing to create the balloon's envelope, which measures 142,4000 cubic feet, from 16,000 square feet of special ripstop polyester fabric. It also took twenty-five days of dying of the fabric for the special grape color shade for the Bennett Lane logo of grape clusters. Following the balloon landing, winery co-owner Lisa Lynch announced the winning entry of the "Name the Bennett Lane Balloon contest." The chosen name, Calistoga AVA-tion, will be included on the Bennett Lane Winery website at www.bennettlanewinery.com and announced on Twitter via the winery's handle @BennettLane.
"Who doesn't love a hot air balloon? We are thrilled to be able to offer our guests a unique way to experience Napa Valley, with our signature Bennett Lane Winery brand of hospitality," said Bennett Lane Winery owner Randy Lynch. Randy and his wife Lisa were joined by special guest, World Series Champion Manager Tony La Russa, for a celebratory brunch and press conference following today's flight.
Bennett Lane Winery, in partnership with Calistoga Balloons, will now offer standard and private flight packages for guests who would like to experience the thrill of riding in their hot air balloon. Private flights in the balloon are available in either two, four, or six person options and include a limousine pickup from an up-valley hotel prior to launch, a Bennett Lane flight jacket, and brunch at The Grill at Meadowood. Also included in this package is a private reserve tasting at Bennett Lane Winery following the flight. The prices for this package are $1999, $2399 and $2899 for two, four, and six people respectively.
A standard flight with a group in the hot air balloon includes a Bennett Lane flight hat, brunch at The Grill at Meadowood and a tour and tasting at Bennett Lane that includes a picnic lunch. Transportation to and from the launch site is provided; guests must provide their own transportation to the winery. This package is priced per individual and costs $339 per guest.
About Bennett Lane Winery
: Founded by Randy and Lisa Lynch in 2003, Bennett Lane's off-the-beaten track location and friendly tasting room offer visitors to Napa a "secret gem" and a great way to learn about—and try—some of Napa's best wines in a more intimate setting. Bennett Lane's wines include: a Napa Valley Cabernet Sauvignon ($55); a limited production Reserve Napa Valley Cabernet Sauvignon, ($95); Maximus ($35)—a blend of Cabernet Sauvignon, Merlot, Syrah, Malbec and Petit Verdot—"a red feasting wine"; Los Carneros Reserve Chardonnay ($45); White Maximus, a blend of Sauvignon Blanc, Chardonnay and Muscat ($28) and a limited production Port-style Dessert Wine ($60).
Located at 3340 Highway 128, approximately two miles north of Calistoga, Bennett Lane's tasting room is open daily from 10:00 am to 5:30 p.m. by appointment. Tours may be made in advance by calling 707.942.6684, or toll free at 1.877.629.6272.
For more information please contact Katie Hunter for media inquiries at Charles Communications Associates at press@charlescomm.com, 415-701-9463; or Stefanie Longton, General Manager of Bennett Lane Winery at 877-629-6272.
# # #