Bonny Doon Vineyard To Reschedule 'Grapetionary A-Z'
13 October, 2016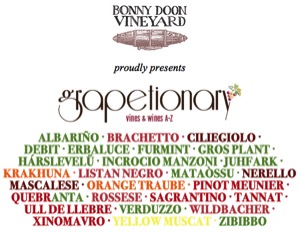 San Juan Bautista, CA -
Grapetionary A-Z, the lively edutainment driven wine tasting event,which explores 26 wines crafted from grapes representing each letter of the alphabet from A to Z, will be
rescheduling
its October 29
th
Northern California event at Randall Grahm's Popelouchum Estate Vineyard in San Juan Bautista, CA. Given the demands of the harvest season and the onset of the most welcome rains earlier than forecasted, the organizers including Grahm, Master of Ceremonies Jason Tesauro and special guest Dr. Jose Vouillamoz co-author of
Wine Grapes: A Complete Guide to 1,368 Vine Varieties, Including Their Origins and Flavours
, have confirmed and concluded that rescheduling the event for the spring of 2017 would best benefit all involved. A date will be selected in the coming weeks and will be announced accordingly.
Grapetionary is equal parts discovery and decadence, a bucket list event for every level, from novice to Master Sommelier. Forbes called the event
"The Most Unique Wine Event I've Ever Experienced."
Jancis Robinson, Master of Wine said of this event: "Looking at the list of wines Jason has assembled, I'm hugely impressed by the breadth of the selection."
About the organizers
Dr. José Vouillamoz
trained in grape DNA profiling and parentage analyses in the world-famous laboratory of Professor Carole Meredith at the University of California at Davis. Since 2004 he has been an independent researcher at the University of Neuchâtel in Switzerland. He was the first to establish the DNA profiles of Near East grape varieties and to tackle grape domestication from a genetic point of view.
Randall Grahm
is the founder, chief-winemaker and "philosopher king" of
Bonny Doon Vineyard
. He is perhaps best known for his pioneering work with Rhone varietals in California as the original "The Rhône Ranger," and for his award-winning book, "Been Doon So Long: A Randall Grahm Vinthology." Grahm was an early proponent of transparent ingredient labeling on bottled wines, and has been a prominent advocate of terroir-driven wines and biodynamic practices. Most recently Grahm has focused on his project at
Popelouchum Estate Vineyard
to discover a new world Grand Cru.
Jason Tesauro
is an author/sommelier/raconteur. He's the recipient of two national writing awards, author of three books and father of five children. Tesauro co-authored
The MODERN GENTLEMAN series
and currently contributes booze / food/ culture journalism to
The New York Times
,
Travel+Leisure
,
Men's Journal
and others. His latest feature was selected for
Best Food Writing 2016
.
To learn more about this vinous roadshow which has taken place in several cities around the U.S. please visit
grapetionary.com
.
For media inquiries, please contact Kimberly Noelle Charles or Alexandra Fondren at Charles Communications Associates at 415|701-9463 or
press@charlescomm.com