Mendocino Coast's Winesong! Announces its 35th Anniversary Celebration Weekend
14 March, 2019
FOR IMMEDIATE RELEASE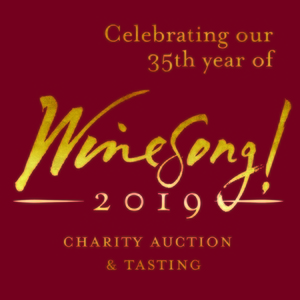 Mendocino Coast's Winesong! Announces its 35th Anniversary Celebration Weekend
Mendocino's premiere annual charity auction and wine & food tasting to be held September 6-7, 2019
Fort Bragg, CA, 14 March, 2019 – Mendocino Coast's annual Winesong weekend event will take place September 6th and 7th 2019. Set along the picturesque Mendocino coastline, the beloved two-day festival is both a showcase of the region's exquisite wines as well as special wines from Napa, Sonoma, Oregon and beyond. Winesong offers a full entertainment experience, characterized by local wineries, breweries and cideries, as well as regional culinary vendors, fine art, music, and charitable giving.
Celebrating its 35
th
year, Winesong now attracts a national audience, drawing both locals and tourists from far and wide. The event is hosted by the
Mendocino Coast Hospital Foundation
, and has raised more than $8 million to date for improvements in local healthcare, including equipment, facilities and services at the Mendocino Coast District Hospital.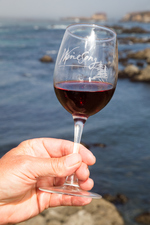 "We could not be more thrilled to celebrate the 35
th
annual Winesong!" says Mendocino Coast Hospital Foundation Executive Director, Michelle Roberts. "Our hope is that this will be our best year yet with respect to fundraising and attendees given it's a special anniversary and we have many new features to offer this year."
The weekend will kick off on Friday, September 6
th
with
A Pinot Noir Celebration
(from 1-4pm) where guests will enjoy over 35 outstanding wineries in an intimate setting at the
Little River Inn
(two miles south of Mendocino Village) accompanied by a taste of the Inn's famous culinary delights. The perfect opportunity to evaluate classic Pinot Noir and learn how exemplary bottles improve with age, guests can sip and savor while meeting and mingling with the winemakers, all while overlooking the spectacular Pacific Coast. Little River Inn's best culinary offerings will be specifically paired to the outstanding Pinot Noir being offered. Tickets are $85 and can be purchased
here
.
The much-anticipated
Winesong Wine & Food Tasting
will take place Saturday, September 7th, from 11am–2 pm
.
Winesong's signature tasting event, guests can stroll through Fort Bragg's lush
Mendocino Coast Botanical Gardens
while enjoying vintages poured by world-class wineries from Mendocino, Sonoma, Napa, and beyond, as well as delectable bites from some of the finest regional gourmet food purveyors (see list of past wineries and epicurean participants
here
). The tasting is accented and enhanced by
various music groups
performing a wide range of styles at different stations including jazz, classical, blues, calypso and folk rock.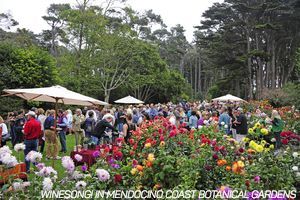 Finally, the centerpiece of Winesong weekend is the
Charity Auction
, which will take place Saturday, September 7
th
, featuring both a silent and live auction (Silent Auction: 11am–3pm; Live Auction: 2pm–5pm. Radio and television wine personality
Ziggy Eschliman
(aka Ziggy the Wine Gal from The Krush 95.9 FM)) will build excitement as the newly appointed Auction Director with lively bidding in the auction tents for nearly 200 lots, featuring spectacular wines from the world's most prestigious wine producers, rare vintages, large format bottles
plus
special vertical and horizontal collections. Other auction highlights include original art from acclaimed California artists, vacations packages and highly coveted international wine getaway packages to Europe, the Caribbean, and other enchanting parts of the world.
Winesong will also honor its 2019 Vintner of the Year along with its 2019 Artist of the Year, whose artwork will be featured on the official Winesong poster - always a treasured commemorative keepsake for event attendees. Both 2019 honorees will be announced in a separate media release, but click
here
for past honored vintners and artists.
Last year's 2018 Vintner of the Year was Dan Duckhorn of Duckhorn Wine Company, who said of the event, "Winesong is one of the most elegant wine events of the year. It's the marriage of some of California's best wines in one of the state's most beautiful locations, all in support of a very worthy cause."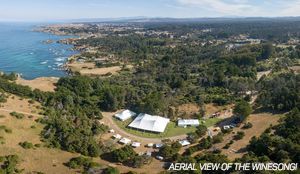 General Admission
ticket holders receive commemorative glass and plate, full access to the tasting & Silent Auction, and festival seating around the Live Auction tent. Advance tickets are available at $125.00 each until June 1st; $150.00 effective June 1st.
Auction Reserve
ticket holders receive all of the above plus reserve seating, reserved parking and a commemorative tote bag, with wine and lunch in the Live Auction Tent. Advance tickets are available at $225.00 each until June 1st; $250.00 effective June 1st. All but $162 of an Auction Reserve Ticket is tax deductible and all but $80 of a General Admission Ticket is tax deductible. The Mendocino Coast Hospital Foundation thanks ticket holders for their support of its hospital!
A full list of events along with ticket purchase information (including pre-sale) can be found at
winesong.org/events/purchase-tickets/
. Directions to all events can be found
here
, along with a generous Winesong shuttle schedule from a wide array of pickup/drop-off locations. For more ticket and logistical information, email
ellen@mchfoundation.org
.
About Winesong!
Winesong is an annual charity auction and wine + food tasting produced by the Mendocino Coast Hospital Foundation. Proceeds are used to enhance equipment, facilities and services at the
Mendocino Coast District Hospital
. The Diagnostic Imaging Center, Medical Evacuation Helipad, Out-Patient Surgical services and Emergency Department Equipment are just a few of the vital areas that Winesong funds have enhanced. Since 1985 Winesong has raised over $8 million for improvements in local healthcare.
Head to
mchfoundation.org/about-us/what-we-support/
for a comprehensive list outlining previous years' capital improvements funded by Winesong proceeds and donations from the Mendocino community.
About the Mendocino Coast Hospital Foundation
Since 1984 the Mendocino Coast Hospital Foundation has engaged in fundraising and community activities to provide support for vital equipment and services at Mendocino Coast District Hospital. The hospital's unique rural locale presents an environment in which the provision of comprehensive hospital services and up-to-date equipment is a tremendous challenge. The Hospital Foundation exists to help the Hospital and our community to meet these challenges.
For press inquiries and images, please contact Kimberly
Noelle
Charles of Charles Communications Associates at
press@charlescomm.com
or 415.701.9463.
###