Peter Mondavi Sr. to Celebrate Centennial Birthday
12 March, 2014



St. Helena, California — Peter Mondavi Sr., President and CEO of Charles Krug Winery, will be commemorated for his 70-year career in the wine industry with the winery's official opening on April 5th of its new, Howard Backen-designed Historic Redwood Cellar & Hospitality Center. It also comes on the heels of Mr. Mondavi's recent acceptance of Wine Enthusiast's 'American Wine Legend' Wine Star Award in New York City, which honors his 38 years as President, as well as his lasting contributions to California's wine industry. Mr. Mondavi will celebrate his centennial birthday in November.

Along with the prestigious Wine Enthusiast recognition, Mr. Mondavi is one of twelve 'Living Legends' appointed by the Napa Valley Vintners Association and a Lifetime Achievement Award recipient for Napa Valley vintners from the California State Fair. He was also added to the CIA Vintners Hall of Fame in 2012. Though his official birthday is in November, the April 5th celebration at the new Charles Krug tasting facility reflects his pride in the recent enhancements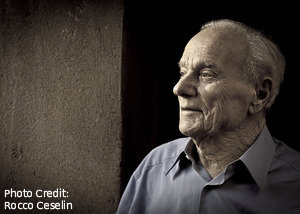 and ardent commitment to the future of the estate. He resides at the winery in St. Helena and maintains active involvement in almost every aspect of the family-owned enterprise.

Mr. Mondavi is a first-generation American citizen. His parents, Cesare and Rosa, moved the family to Lodi, CA from Minnesota in the early 1920s, and Peter Sr.'s career in the wine industry was sparked with a summer job assembling boxes for shipping grapes. A veteran of the Second World War, Mr. Mondavi earned a degree in economics from Stanford University and researched oenology at UC Berkeley. Soon after the war, Mr. Mondavi joined his brother (Robert) in heading the Charles Krug winery. He has since played a key role in cementing Charles Krug's place as one of Napa Valley's premier wineries.

Peter, Sr. is credited with being the first to experiment with cold fermentation during his tenure at UC Berkeley, a technique that eventually became a standard industry practice. "Most of the wines at that time were made at higher temperatures, where they would lose their fruit character through oxidation," he explains. He was also the first to introduce the use of French oak barrels and glass-lined tanks to Napa Valley.

The United States Congress and California Governor Jerry Brown have both recognized Mr. Mondavi's contributions to the California wine industry. As he approaches his 100th birthday, his passion for innovation and improvement remains intact - he was a key proponent of Charles Krug's recent $30 million investment in Bordeaux grape varietal plantings and facility upgrades including the restoration of the 19th century Redwood Cellar. Along with the recent improvements to the winery and grounds, the family has implemented sustainable agricultural methods on its entire estate.

Sons Peter Jr. and Marc Mondavi handle much of the winery's operations today, but Mr. Mondavi still plays an active role in ensuring the quality of each vintage. The family jokingly refers to "Dad" as "the energizer bunny," a reference to his unflagging enthusiasm for wine production. "He has boundless energy and tours the winery with a spring in his step on his daily visits," Peter Jr. marveled. After nearly one hundred years (and counting!), Peter Mondavi Sr. continues to build his legacy.

About C. Mondavi & Family
Established in the 1940s by Italian immigrants Cesare and Rosa Mondavi, C. Mondavi & Family remains a family-owned business, which has thrived for generations to produce fine wines for a variety of occasions and consumers. Built on a foundation of family values, hard work and European winemaking traditions, the winery offers a portfolio of wines for both special occasions and everyday gatherings of family and friends. Strategic planning and operations are handled by co-proprietors Marc Mondavi and Peter Mondavi Jr., both sons of legendary Napa Valley wine icon Peter Mondavi Sr., who serves as the company's President and CEO. The family is now proudly welcoming members of the fourth generation to the business, continuing a legacy started almost 70 years ago and setting a foundation for generations to come.

For press inquiries and images, please contact Kimberly Charles or Alexandra Fondren at Charles Communications Associates at press@charlescomm.com or 415.701.9463.



# # #