Purple Wine Company Launches Alto Cinco: Vibrant Old Vine Spanish Garnacha
14 May, 2013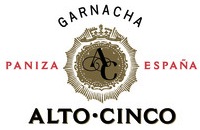 Graton, CA
- Purple Wine Company, known for wines of high quality, outstanding value and consistent style, is launching Alto Cinco. Sourced from Northern Spain's Cariñena DO, the wine is a blend of 94% Garnacha and 6% Tempranillo. Alex Cose, Purple Wine Company's Senior Vice President of Winemaking, drew upon his grape sourcing and blending expertise, working in close collaboration with local Paniza winemakers to create a vibrant, exciting wine.

Purple has been cognizant that many emerging wine consumers in the 21-24 age range prefer full-flavored reds like Cabernet,
Zin-based Blends, Malbecs, Cabernet and Petite Sirah.1 Spanish wines are also a favorite of this group with 45% drinking Spanish versus 29% of all adult wine consumers.2 Alto Cinco fills both of these desires and offers value and quality to this target market that enjoys experimenting with its wine choices.

Alto Cinco also appeals to younger wine drinkers with a name that loosely translates from Spanish as "high five" with "high" referring to the height of Paniza's dry-farmed vineyards in the region of Aragon at elevations around 2,800 feet above sea level. "Five" refers to the Paniza growing area. Located within one of four officially recognized growing regions in the area, some believe it should be its own appellation.

Alto Cinco's first vintage was aged for six months in a combination of French and American oak barrels for additional roundness and texture. The wine tastes of ripe, juicy raspberries and black cherries, complemented by oak notes of mocha and vanilla on the finish. Its crisp acidity, silky tannins and ripe fruit flavor profile makes it a versatile pairing with a wide range of cuisines.

The bold label design draws upon the rich heritage, colors and tradition of the region and the flag of Aragon. A whimsical lariat element pays tribute to Spanish spontaneity, artistry and flair. The wine will be available nationwide at fine dining establishments as well as fine wine retailers. Alto Cinco will exclusively produce one wine at a suggested retail price of $16.
About Purple Wine Company
Recently named to Inc. Magazine's top 5,000 companies in 2012, Purple Wine Company was founded in 2001 by Derek Benham and is based in Graton, California. Its mission is to create wines of outstanding value, high quality and consistent style from vintage to vintage. Current brands include: Avalon, BEX, Four Vines, Cryptic, Lucky Star and Kumbaya. Both Avalon and Four Vines were recently named Hot Prospect Brands by M. Shanken's Impact Newsletter for 2012, tracking the most promising wine and spirits growth brands in the marketplace. For more information, please visit www.purplewine.com. For press inquiries, please contact Kimberly Charles at Charles Communications Associates at press@charlescomm.com or 415.701.9463.
# # #

1. (Source: Mentel/Experian Simmons NCS/NHCS Winter 2012 Adult Full Year-POP)
2. (Source: U.S. Dept. of Commerce/Gomberg, 2012, Total Table Wine)