Robert Parker Wine Advocate Announces New Website Launch
26 February, 2016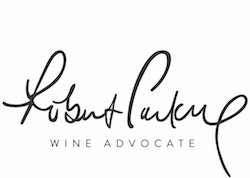 San Francisco, CA:
Robert Parker Wine Advocate
and
RobertParker.com
, the world's most widely read independent consumer's guide to fine wine, announced last Friday that it will unveil a new website on April 1, 2016
.
The announcement was made during a press conference featuring Robert M. Parker, Jr. and the publication's entire 9-member review team at the Mandarin Oriental in New York City. The nine reviewers including Robert Parker, Lisa Perrotti-Brown, MW, Jeb Dunnuck, Luis Gutierrez, Monica Larner, Neal Martin, Stephan Reinhardt, Mark Squires and Liwen Hao convened in New York for the
Wine Advocate's
signature
Matter of Taste
tour as part of a global series of exclusive events for
RobertParker.com
members and guests.


The press conference included an overview of the highlights of new offerings on the redesigned RobertParker.com website, where
Wine Advocate
Editor-in-Chief Lisa Perrotti-Brown MW walked the press through a beta version, currently available to subscribers at
beta.robertparker.com
as of February 20, 2016.
Perrotti-Brown said, "We are incredibly excited to at last unveil our new website. The lengthy process of transforming and improving our old database has been a painstaking labor of love. The new, robust search facility enables our members to more easily access the wealth of tasting notes, articles and resources we host on our website."
The website includes a variety of new features, beginning with a new design and functionality. The aesthetic is particularly informed by the
Wine Advocate's
dedicated photographer, Johan Berglund, whose beautiful images have won a host of awards in his native Sweden including "Picture of the Year" and "Photographer of the Year." Berglund cites the Bordeaux region as his most enduring muse and has said of his work, "I feel a great connection between wine and documentary photography. In both cases they represent a window through time to a moment in history frozen by a cork or the release of a shutter."
The revamped RobertParker.com will also include an enhanced search capability, enabling members to search the entire
Wine Advocate
database of more than 300,000 tasting notes with a powerful and intuitive proprietary search tool, which features nine different filter criteria including searches by color, sweetness, type, variety, rating, author, price and location(s). Articles will now be searchable for the first time, using the same advanced search filters as the site's tasting notes. A new wine information page will also include bottle shots and relevant vintage chart material.
Finally, fans of the popular dining section of RobertParker.com,
Hedonist's Gazette
, will find far more flexible search capabilities when searching for specific restaurants, destinations, recommendations and/or wines.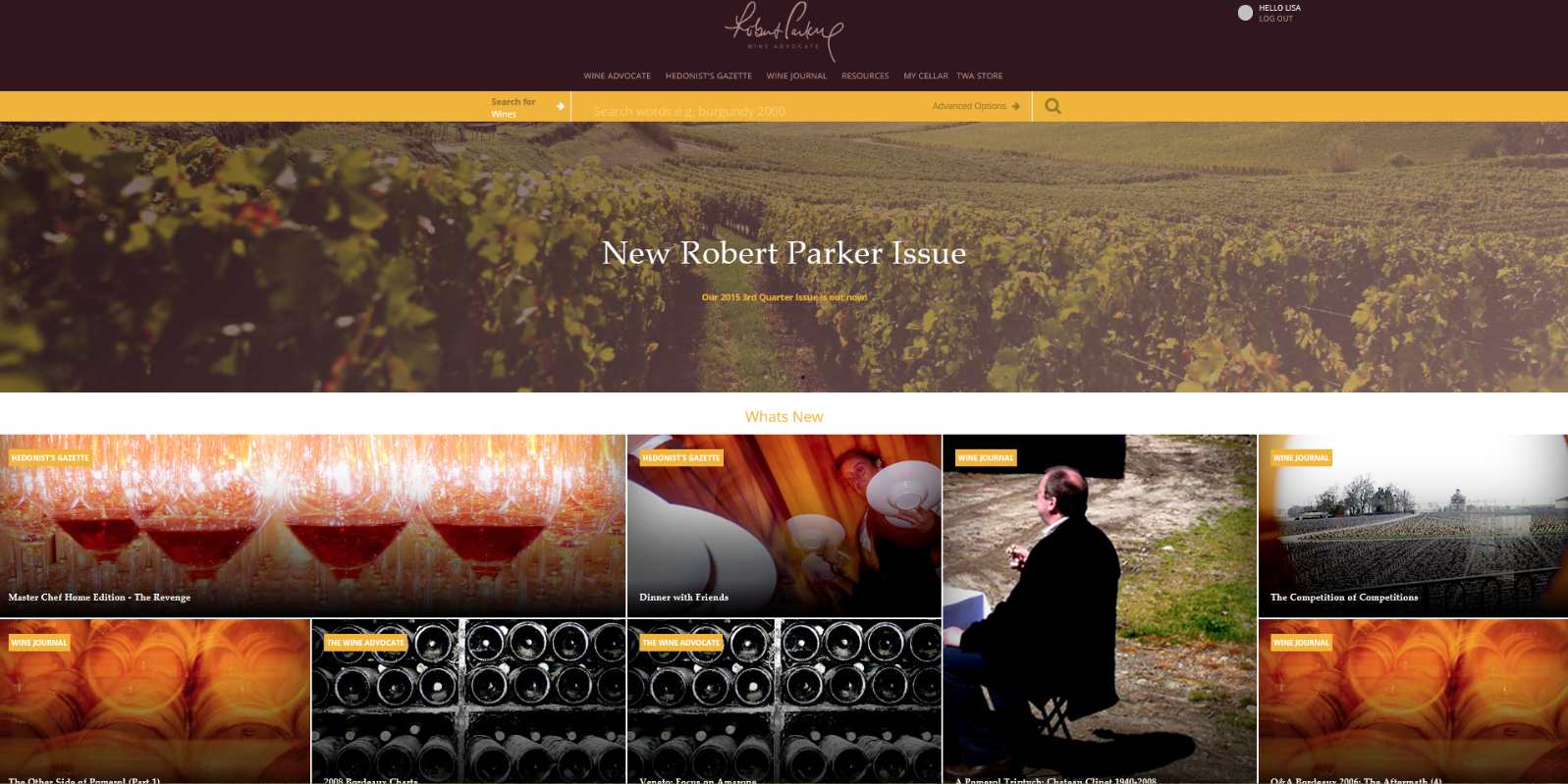 Perrotti-Brown continued, "We could not have achieved our goals without the tireless efforts of our wine-loving IT director, Augustine Low. We also have the passionate efforts of our own review team to thank, who have spent many hours reviewing the site from their various perspectives, ensuring it meets all our many requirements. The clean, modern design, look and feel were created by
Brand Union
in Singapore and have been greatly enhanced with the images supplied our new photographer Johan Berglund. I couldn't be more proud of our team and their results."
In addition to news about the website, the
Robert Parker Wine Advocate
team outlined a few other recent initiatives at the media event, including the expansion of the publication's global presence and reach by the recent hiring of Liwen Hao as its new Asian Wine Reviewer. A Chinese national and experienced wine writer and educator, Liwen Hao is based in Shanghai. His responsibilities now include reviewing Asia's best wines including those from China, India and Japan. He will also be overseeing the translation of parts of the RobertParker.com website and database in simplified Chinese. The Chinese version of RobertParker.com is expected to launch in June 2016.
Finally,
Robert Parker Wine Advocate
recently opened a new office in Napa, California to house its expanding editorial, marketing and business development teams. Perrotti-Brown relocated from Singapore to Napa to manage operations from the new west coast headquarters.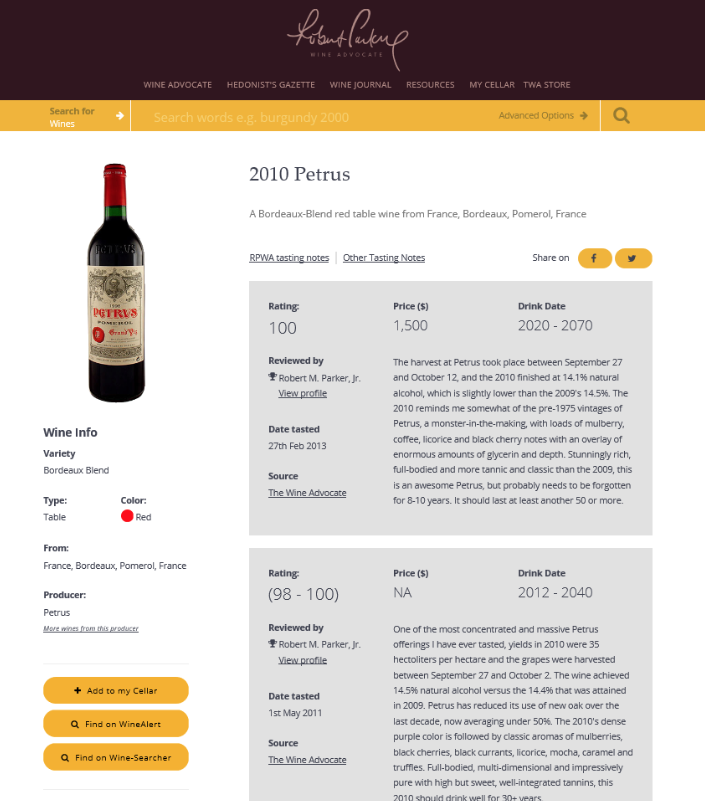 About Robert Parker Wine Advocate
For more than 35 years,
The Wine Advocate
, and later RobertParker.com, have been the global leader and independent consumer's guide to fine wine. The brand was established by the internationally recognized, Robert M. Parker, Jr., the only critic in any field to receive the highest Presidential honor from three countries – France, Italy and Spain.
Robert Parker Wine Advocate
provides a wealth of information to its subscribers, including a searchable database of more than 300,000 professional wine ratings and reviews, plus articles, videos, daily news content, online retail availability and pricing, an active, professionally moderated bulletin board, a mobile app for easy access to the comprehensive online database of reviews, and much more. For more information, visit
www.RobertParker.com
or follow
@Wine_Advocate
on Twitter. For more information on the Matter of Taste tour, visit
http://www.a-matter-of-taste.com
and follow #MatterOfTaste on Twitter.