San Francisco World Spirits Competition Celebrates Lucky 13th Anniversary: Spirited Event Showcases 1,407 Entries From 63 Countries
2 April, 2013
SAN FRANCISCO, California – The San Francisco World Spirits Competition hosted its 13th annual event on March 21st, 22nd, 23rd, 24th at the elegant Hotel Nikko in downtown San Francisco. Continuing its tradition of record-breaking entries annually, this year the number of submissions increased 17% up from 10% the year before. Many categories of spirits experienced a marked increase this year most notably American Craft Whiskey, Gin and Herbal Liqueurs. Often a harbinger of trends in the marketplace, the competition is considered to be the rite of passage for top quality spirits as it has 34 of the most professional global palates serving as judges.

Timothy McDonald, President of Wine Spoken Here states, "If you look back upon this competition, which I've been judging at for 13 years, as go the winners, goes the marketplace. Prior to SFWSC, categories such as Cachaça, Pisco and even Mezcal were relatively unknown. This is the best competition I judge in and the pool of judges only gets better every year in terms of experience and dedication to the art of distilled products."

Top Awards
Best in Show Awards, which are the top five awards of the event, went to 8 Viboras Espandin Mezcal from Oaxaca in the Best Mezcal and Best in Show Unaged White spirit. Best Extra-Aged Rum and Best in Show Aged White went to Barcelo Rum from the Dominican Republic, celebrating its 30th anniversary this year. Best Single Malt Scotch 20 Years &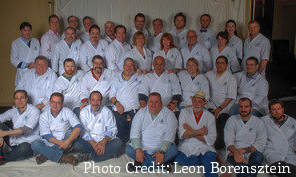 Over & Best in Show-Whisky went to Jura from Whyte and Mackay importers, Best Calvados and Best in Show – Brandy went to Berneroy from Camus Wine & Spirits of France and Best Cream Liqueur and Best in Show Liqueur went to Chila Orchata Cream Liqueur from the Sazerac Company.

Awarded annually, this year's Tasting Panel Magazine Distillery of the Year went to Suntory Ltd. of Tokyo, Japan and Importer of the Year went to Pernod Ricard USA of New York, NY and the Director's Award of excellence went to William Grant & Sons, New York.

Top Awards in Each Category

Each year, the leading spirit in a category receives the title of "Best" of that category. In the White Spirits other category winners included "Best Vodka" won by Absolut ELYX Vodka ($50) of Sweden imported by Pernod Ricard; "Best Flavored Vodka" went to Miodula Vodka ($35) for its Presidential Blend Honey Vodka of Distilleries Group Toorank of Poland imported by MHW of Manhasset, NY; "Best Gin" went to the classic Beefeater ($20) imported by Pernod Ricard; "Best White Rum" went to Miami Club ($28) of Destileria Caneca of Jamaica from Miami, FL; "Best Gold Rum" went to Screech Rum ($15) of Jamaica imported by MS Walker; "Best Flavored Rum" was awarded to Sailor Jerry ($22) of the Virgin Islands imported by William Grant & Sons; "Best Over-proofed Rum" (108-proof) went to Panama Red ($30) of the Liber Group of Panama; "Best Cachaça" was given to Maison Leblon Cachaça ($30) of Minas Gerais, Brazil imported by MHW; "Best Soju" went to Myeongin Andong ($26) of Korea; "Best Pisco" went to Pisco Porton ($40) from Destileria La Caravedo of Peru; "Best Other White Spirit" went to Mozart Chocolate Dry White Spirit ($42) of Mozart Distillerie of Austria.

Best of the Tequila category included "Best Silver" (which also won Best Tequila) for Abreojos ($29.99) imported by Abreojos Spirits; "Best Reposado Tequila" went to Alquimia Organic Reposado Tequila, Los Altos de Jalisco, Mexico ($54), imported by Tierra Madre from Oxnard, California who also won the "Best Añejo" category for its Alquimia Anejo Tequila ($60); and the "Best Extra-Aged Anejo Tequila" went to Gran Centenario ($121) of Casa Cuervo Mexico imported by Proximo Spirits of Jersey City, NJ.

Continuing its growing popularity, the Bourbon category this year grew 33% in terms of entrants. Winners included "Best Small Batch and Best Bourbon" for Pappy Van Winkle ($65) from the Sazerac Company; "Best Single Barrel Bourbon" went to Blanton's ($75) of Age International; "Best Straight Bourbon" went to Jim Beam ($24).

The Whisky/Whiskies categories included American Craft, Canadian, Rye, Irish, Blended Scotch Up to 15 Year Old, Blended Scotch 16 Year and Older, Single Malt up to 12 Years Old, and Single Malt Scotch 13-19 Year Old. Winners included: Firestone and Robertson ($40) for "Best American Craft Whiskey" out of Ft. Worth Texas; "Best Canadian Whisky" to Lot No. 40 ($40) from Corby Distilleries Ltd. imported by Pernod Ricard; "Best Rye" went to Masterson's 10 Year Old Rye ($79) of Canada; "Best Irish Whiskey" went to Bushmill's 21 Year Old ($125) imported by Diageo North America of Norwalk, CT; "Best Other Whiskey" went to English Whisky Company ($75) of Scotland imported by Purple Valley Imports of Alberta, Canada; "Best Blended Scotch Up to 15 Year Old" went to Label 5 ($25) from the Crosby Lake Spirits Company of Scotland imported by the Prestige Wine Group of St.Paul, MN; "Best Blended Scotch 16 Year and Older" went to Johnnie Walker Blue ($220) imported by Diageo North America; "Best Single Malt Scotch Up to 12 Years Old" went to the Islay Malt Ardbeg ($109) imported by Moet Hennessy-USA; "Best Single Malt Scotch 13-19 Year Old" went to Lagavulin ($90) also an Islay malt imported by Diageo North America.

In the Brandy category the "Best Cognac" went to Louis Royer, Fine Champagne Cognac VSOP, Force 53 ($49) imported by Lapham Import Company of Florida; "Best Spanish Brandy" went to Gran Duque d'Alba XO Solera Gran Reserva Especial ($100) imported by Palm Bay International of Pt. Washington, NY.

Responding to the rising popularity of the Açai fruit, the "Best Fruit Liqueur" went to Cedilla ($24) the macerated Açai berry liqueur from Brazil made by Leblon Cachaca and imported by MHW of Manhasset, NY; "Best Absinthe" went to Pernod ($70) of France imported by Pernod Ricard; and finally "Best Pre-Mixed Cocktail" went to Trueglamour's Lemon Drop Martini ($16) from Sonoma Coast Spirits of California.

Judges

Thirty-four international judges gathered this year with five new judges joining including: Jackson Cannon Mixologist and Bar Director of the Hawthorne, Island Creek Oyster Bar and Eastern Standard in Boston; Charles Joly Mixologist and Beverage Director of Aviary, Chicago; Fred Minnick Wine & Spirits journalist from Louisville, KY; Matt Myers traveled the furthest from the MGM Grand Ho Tram Beach in Vietnam where he is the Director of Beverage; and lastly Levi Walker, Craft Sprits Manager of Young's Market Company, San Diego, CA. For a complete list of 2013 judges, please visit: http://sfspiritscomp.com/about/judges. Tony Abou-Ganim, the "Modern Mixologist", and the competition's Director of Judging for the past four years says of the event, "I'm flattered and humbled to be a part of a competition with some of the best palates in the world. I look forward to it all year and it is a great way for an established or unknown spirit to gain credibility in this business. The winners feel the impact of the competition results in significant ways and use the results to help build both their sales and reputations globally."

About the Competition

Founded in the new millennium year of 2000 by noted wine & spirits critic and competition director Anthony Dias Blue, the San Francisco World Spirits Competition has gained a reputation as the leading gauge for spirits trends and top quality products in the country. Noted journalists, distillers, beverage directors, mixologists, restaurateurs, Master Sommeliers, hoteliers, consultants, educators comprise the august body of judges. The continued double-digit growth of entries annually points to an undeniable love affair with distillate products in the United States.

For interviews, images and media information, please contact Kimberly Charles at Charles Communications Associates at press@charlescomm.com or 415|701-9463.
# # #