Tempranillo Advocates Producers and Amigos Society (TAPAS)
 Announces International Albariño Days: August 3-8, 2016
26 July, 2016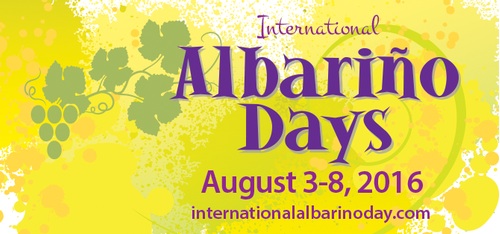 San Francisco, CA, July 26, 2016 – The Tempranillo Advocates Producers and Amigos Society (TAPAS) announced the fifth International Albariño Days, August 3-8, 2016: a week-long celebration of the Albariño grape. TAPAS is encouraging wine lovers everywhere to celebrate by opening bottles of Albariño throughout the week and sharing their experiences online with the hashtag #AlbarinoFiesta.

Albariño's popularity in the United States has skyrocketed in recent years. In California alone, Albariño now has 280 acres planted across the state[1], up from 176 in 2011 (and well up from a mere 2 acres planted in 2000). Consumers have found the Spanish grape a popular alternative to Sauvignon Blanc, Dry Riesling, Grüner Veltliner and even Chardonnay (Lettie Teague of the Wall Street Journal recently called Albariño "the Chablis of Spain"), with its crisp floral aromas and refreshing, peach-like flavors.

TAPAS will commemorate the grape with a week-long celebration - to coincide with the Fiesta del Albariño 2016 held in the small coastal town of Cambados, Spain during the first week of August. Albariño is traditionally grown in Rias Baixas, a wine region in Galicia in northwestern Spain, and produces crisp, acidic white wines ideal for summer evenings and seafood pairings. There, Albariño represents 90% of all plantings. It is also a commonly found grape in Portugal, where it is known as Alvarinho and used extensively in Vinho Verde DOC wines.

Wineries and retailers across the country are celebrating with organized events, the largest taking place in Lodi, California, where the Lodi Tour of Albariños will be offered on August 5-7 (with eight Lodi-based Albariño-producing wineries participating). Otherwise, TAPAS encourages wine lovers everywhere to use #AlbarinoFiesta to connect with fellow Albariño enthusiasts worldwide!



About TAPAS
TAPAS, now in its twelfth year, started at the 2004 Unified Symposium, when Tempranillo winegrowers from California, Oregon, Washington, Texas and Arizona met for the first time to discuss their avocation. Since that first visionary group pointed the way, the organization has incorporated and grown to over 100 members. The first Grand Wine Tasting was held at Copia in Napa in 2008, and has continued annually since then, as one of many initiatives to promote Tempranillo and other varietal wine grapes native to the Iberian Peninsula and wines produced from them in North America. Connect with TAPAS Facebook as well as on Twitter at @TAPASociety.
# # #