The Bank of Wine & Spirits at Wingtip Unveils Interactive Whiskey Display
22 July, 2015
Wingtip and Float Hybrid Partner to Deliver a Technology that Revolutionizes
the Spirits Shopping Experience

San Francisco, CA. July 22, 2015 – Wingtip, located in the heart of San Francisco's Financial District is a one-stop shop for the modern gentleman and those who adore them. Open to the public, the store features professional and casual clothing, a custom tailor, a cigar shop, barbershop, shoe shine stand, fly-fishing shop and more. Their members only club upstairs on the 10th floor has a parlor room, bar & lounge, golf simulator, wine cave, meeting rooms and dining options. Given that the Financial District, or #FiDi as the local businesses like to call it, has transitioned from white shoe service firms of yore to modern Wingtip shoe adorned professionals in the technology, marketing and financial services sector, it makes sense that this oasis should introduce an innovative technology to enhance the whiskey shopping experience.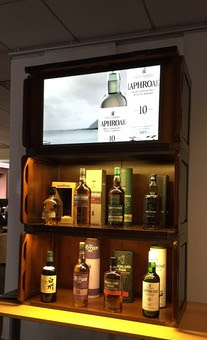 Wingtip partnered with San Francisco-based technology firm Float Hybrid to develop a unique interactive spirits display that responds to individual shopper interactions. The system uses Float's
Anything Interactive
technology to activate on-screen content.
When a shopper approaches, a welcome screen is activated to encourage them to interact with the products and to delve further into background information via videos and press materials. The content on screen then changes based on the products the shopper touches. Product information, videos and whiskey recipe tutorials are all delivered to personalize the experience.

"There is a wealth of information online that shoppers are hungry for when shopping in the physical store," says Keith Bendes, Business Development Director at Float Hybrid. "We are enabling that digital content to be delivered in real-time."
Float's Anything Interactive technology provides the ability to update content in real-time and understand the impact of content changes on shopper behavior. External information including time of day, weather, spirits trends and season can all be linked to the type of content displayed, making the experience more relevant at the moment of engagement. The technology also tracks shopper interactions anonymously and provides that data to cloud-based analytics tools. This allows Wingtip to better understand shopping habits and their customer's path-to-purchase.

"Our whole approach at Wingtip and the Bank of Wine & Spirits in store is to customize the shopping and social experience. This technology enables us to elevate that experience for our customers and members. We have an array of spirits, particularly whiskies, as well as wines to keep our clientele engaged and coming back often," says Kyle Nadeau, General Manager of the Bank of Wine & Spirits.

About Wingtip
Wingtip is a "one-stop shop" for the modern gentleman. Housed in 22,000 square feet in San Francisco's Financial District, the store features a custom clothing department, professional & casual clothing, cufflinks, pens, leather goods, barware, cigar accessories, a barbershop, and shoe shine stand. And that's just the store. A private club for our best customers houses a bar & lounge, private parlor rooms, a boardroom, golf simulator, and a wine cave. The Bank of Wine & Spirits at Wingtip, opened in the winter of 2014 and featured over 1,000 highly curated wines and spirits. For more information visit http://wingtip.com/.

About Anything Interactive
Float's Anything Interactive technology is a proprietary approach to defining user activity in specially defined zones of space. The technology responds to individual user interactions and tracks those interactions on cloud based analytics tools, bridging the gap between the online and offline world. For more information visit http://www.anythinginteractive.com/ or email keith@anythinginteractive.com.

For media queries, image requests or interviews, please contact Kimberly Charles or Alexandra Fondren at Charles Communications Associates, press@charlescomm.com or 415|701-9463.

###