Wente Vineyards Announces Inaugural Release of Niki's Pinot Noir Rosé
6 February, 2019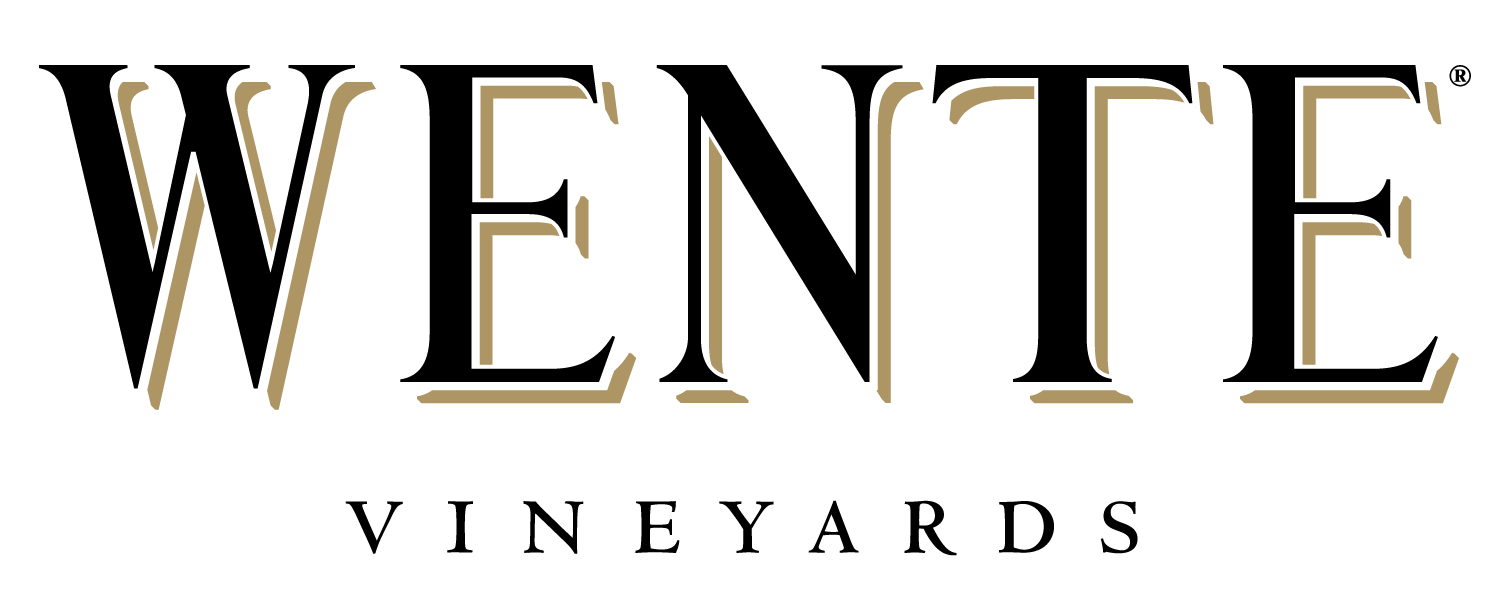 Wente Vineyards Announces Inaugural Release of Niki's Pinot Noir Rosé
LIVERMORE VALLEY, CA – Valentine's Day 2019 – Wente Vineyards is tickled pink(!) to announce the inaugural release of the 2018 Niki's Pinot Noir Rosé (SRP $30), just in time for Valentine's Day. Wente Vineyards remains the country's oldest, continuously operated family-owned winery, and this bottling marks the newest addition to an internationally respected stable of top quality, appellation-driven California wines.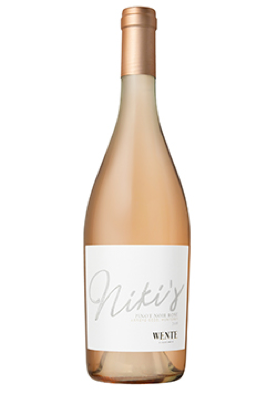 2018 Niki's Pinot Noir Rosé is the brainchild of Viticulturist and 5th Generation Winegrower, Niki Wente. Niki partnered with her cousin, Wente Vineyards' Chief Operating Officer and Winemaker Karl Wente, to create a crisp, pure rosé with notes of cantaloupe, rhubarb, white strawberry and mandarin zest, while maintaining a sophisticated, almost rose quartz-like acidity. The lingering finish makes this the perfect pairing to elevate weekend brunch (though it's also great on its own, perhaps with a slice of manchego cheese). The sleek, tapered bottle and the bright, fresh look of the label prove an enticing complement to the wine inside.

Wente Vineyards is coming off its 135th anniversary, when it was resoundingly celebrated for its industry-wide contributions to innovation, especially with regards to vineyard sustainability. As the Viticulturist for Wente Vineyards, Niki is now the face of that commitment. Her first priority is always the vineyard, and she loves the Pinot Noir grape for its clonal diversity and ability to translate terroir into a uniquely elegant flavor profile. Niki wanted to make a wine that best reflects the quality farming of the Arroyo Seco (Monterey) appellation, where the cooler climate creates a longer growing season and allows the grapes to develop optimally. This single vineyard Pinot Noir starts with 8 clonal selections, establishing a unique complexity before the wine is ever made. It is completely dry and fermented in stainless steel tanks to retain its bright, crisp acidity.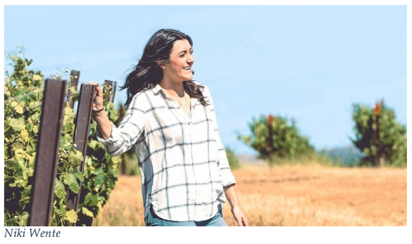 Niki believes rosé of Pinot Noir is the ideal vehicle to express the elegant terroir she cultivates in a leaner style. Color was extremely important to her, so she and the team were very intentional with how they developed color and the pale pink hue of this wine reflects her visual and subsequent flavor aesthetic. Niki's uncle Eric Wente has a namesake Chardonnay (Eric's Chardonnay) that was crafted to reflect his love of lean, mineral driven Chablis – this rosé is literally the next generation of that flavor profile.

Niki said, "My family has a passion for stewardship of our land. I absolutely love being able to continue this legacy and maintaining quality in our vineyards. Sustainability in the vineyard has always been our practice and we wouldn't still be here after 136 years otherwise. Being able to farm the land I love and make a beautiful wine from the grapes is such a meaningful experience and I'm so excited to share it." She shares more about her vineyard philosophy and sustainable practices in this video released just before Valentine's Day.

About Wente Vineyards
Founded in 1883, Wente Vineyards is the oldest continuously-operated, family-owned winery in the country, now owned and managed by the fourth and fifth generations of the Wente family. The winery draws from certified sustainable Estate vineyards in the Livermore Valley, San Francisco Bay and Arroyo Seco, Monterey appellations to create an outstanding portfolio of fine wines. Wente Vineyards is distributed in all 50 states and in over 70 countries worldwide. In 2010, it joined the top 2% of California wineries who meet all three tiers within the Certified California Sustainable Winegrowing codes & designation. In 2011, Wente Family Estates was named American Winery of the Year by Wine Enthusiast and a top 30 wine company by Wine Business Monthly. 2012 marked the 100th anniversary of the Wente family bringing Chardonnay cuttings to California from France. Today, the Wente clones of Chardonnay are the most widely planted in California.

Located just east of San Francisco in the historic Livermore Valley, Wente Vineyards is recognized as one of California's premier wine country destinations. In 2018, the winery took a leadership role in its longstanding mission to inspire employees and guests to make time for what really matters, as realized through Wente Vineyards' best practices, outstanding wines and wine country experiences. The property features wine tasting, world-class concerts, award-winning fine dining and championship golf. For more information, visit www.wentevineyards.com.

For press inquiries and images, please contact Kimberly Noelle Charles at Charles Communications Associates at press@charlescomm.com or 415.701.9463.
###