The Return of the Bicycling Beauty - Cycles Gladiator Wines gets new look in gear
7 October, 2015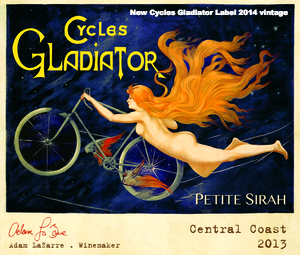 San Francisco, CA - Cycles Gladiator, historically a top selling extreme value portfolio of California appellated wines, is rolling out a new look with the 2014 vintage. Acquired in 2013 by the sales & marketing start up Wine Hooligans, Cycles' evocative and iconic label of a winsome naked red-headed beauty with her bicycle, has returned to accompany its original winemaker,
Adam LaZarre
. Cycles has put into gear a more focused appellation program with long term contract grape growers in the Central Coast and has a portfolio that includes Chardonna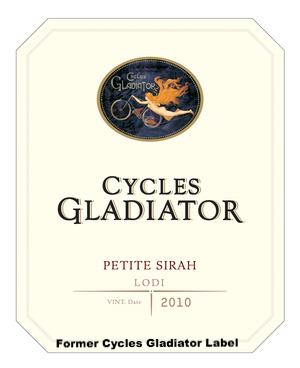 y, Cabernet Sauvignon, Petite Sirah, Merlot and Pinot Noir. The updated label was the initiative of Head Hooligan
Dennis Carroll
together with multiple award-winning winemaker LaZarre who aimed to revitalize the wine quality along with its branding.
The updated label design brings back the provocative beauty, who was previously de-emphasized on the label. Originally conceived during the Belle Epoque period in Paris, the poster was created by one of many bicycle companies who advertised the
newfound freedom from domesticity
that women found through access to the bicycle.
Wine Hooligans and Carroll have now restored the label to its former glory, bringing the image back to its original size and focusing production on the versatile and quality driven Californian Central Coast. Trade clientele of Wine Hooligans have praised the revitalized look. Lee Christopher of Bottles and Barrels, a division of Kentucky Eagle has stated, "Cycles Gladiator is back where it belongs, in the capable hands of Adam LaZarre. I met Adam in 2003 and the wines he made were incredible back then. The new label is fantastic and consumer reaction has been really positive. Now that Adam has been reunited with the "Lady on the Bicycle" I couldn't be happier to be back in business with my friend again." Dave Robertson of Paustis Distributors in Minnesota shares, "The new label is not only cleaner and easier to read, but sales have picked up since we introduced it back into the market. The wine quality definitely showcases Adam's talents."
Production's return to its Central Coast roots, where the Paso Robles-based LaZarre lives, has brought winegrowing and winemaking all under one roof. LaZarre ensures that each vineyard is hand-picked at the most ideal time. He brings small production detail to larger scale production. The wines have already shown great promise winning gold medals at the 2015 Sunset Magazine and Long Beach Grand Cru wine competitions, along with a Best Buy from the Wine Enthusiast.
Originally conceived as a brand in 2005, LaZarre, a former non-commissioned officer in the Navy with 20 years of winemaking experience, created Cycles Gladiator with the mindset to "produce really great wines that taste two to three times the price, [knowing] that, on any given night, someone somewhere is enjoying my wine." That is still the wines' credo today.
Dennis Carroll brings over 20 years of sales and marketing as well as operational experience to his newly formed company
Wine Hooligans
. As the former President of Purple Wine Company, Carroll was responsible for building and shaping such household brand names as Mark West, Avalon and Four Vines. His most recent endeavor Wine Hooligans, seeks to create and reinvent artisan wine brands to reach wine lovers all over. To do so, Carroll has gathered four wine makers and five different brands under the Hooligans umbrella, those include Cylces Gladiator, Sea Monster, Broadside, Goyette and Stephen Vincent. More information can be found at
www.winehooligans.com
.