Parallel Napa Valley Live Auction Lot Earns $100,000 at 33rd Annual Auction Napa Valley
27 June, 2013

Napa Valley, CA
– Parallel Napa Valley, which joined forces with Lail Vineyards and Vineyard 29 for a live auction lot at Auction Napa Valley 2013, secured a solid winning bid of $100,000 helping towards the $16 million fundraising effort that broke all records this year. The winning bid went to Carl Thoma, formerly of Thoma Cressey Equity Partners based in Chicago and the lot included a collection of four Limited Edition Double Magnums from the three wineries and a package to experience the 2014 Winter Olympic Games being held in Sochi, Russia, from the luxurious
St. Regis Deer Valley
in the hometown of Parallel partners, Park City, Utah.
The auction lot was displayed at the renowned Barrel Auction held at Raymond Vineyards. Appropriate for the heat, red, white and blue snow cones were served by a former US Olympic skier, Jenny Lathrop and her twin sister, Abbi. The head butler of all the Americas for the St. Regis Luxury Collection of hotels, Alexander Mattinson, was also on site; well qualified for his position, he had once worked at Buckingham Palace. The complete lot featured a double magnum of the Limited Edition Meritage Gold Wine, a blend of the best from Lail Vineyards, Parallel Napa Valley and Vineyard 29 and one of only six ever produced by renowned winemaker, Philippe Melka. Additionally, the lot included 3 vintners dinners, a spa package at the St. Regis, 4 VIP "Gold Passes" from the U.S. Ski Team, 4 pairs of custom skis and U.S. Ski Team logo wear. Following upon a tradition since the brand's inception with Parallel supporting high level
ski events
, including the U.S. Ski and Snowboard Team over the years, this will be one of many Parallel Olympic-related activities. The brand will also be donating wine to help fundraise for the first ever Olympic U.S. Women's Ski Jump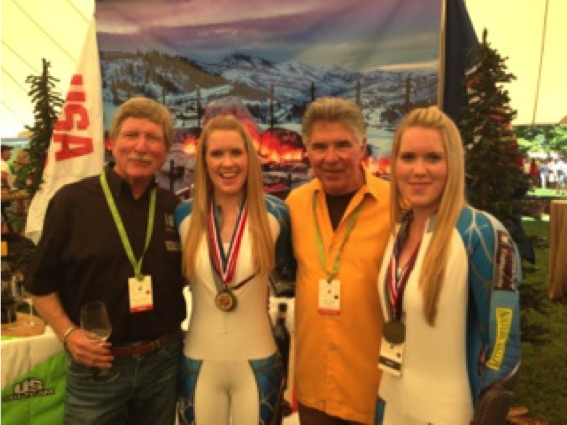 Team, who will be competing in 2014.
The 33
rd
annual fundraiser hosted by the Napa Valley Vintners raised a record-breaking $16.9 million during the weekend of June 1
st
, 2013. The fundraising proceeds of the auction go towards healthcare and youth education nonprofits in Napa County. Continuing Parallel Napa Valley's ongoing philanthropic efforts, the winery is proud to be a part of such an incredible and beneficiary event that gives back to the local Napa community.
About Parallel Napa Valley
Parallel Napa Valley is an artisan winery that produces top quality Napa Valley designated Cabernet Sauvignon and Chardonnay wines, created by Philippe Melka, praised as one of the world's most influential wine consultants by
Robert Parker
in 2008. The winery was established formally as a partnership in 1999 by six close friends who felt the concept of their dream represented their parallel lives in Deer Valley, where they are originally from, and Napa Valley, their second home. In addition to making a great wine, the partners of Parallel Napa Valley are dedicated philanthropists and have made it a priority to extend their wine and its success to support their communities and various charities.
For media inquiries, images and interviews, please contact Skye Morgan of Charles Communications Associates at 415.701.9463 or
press@charlescomm.com
.
# # #