Parallel Napa Valley
Vintner's Collective Tasting Room: 1245 Main Street, Napa, California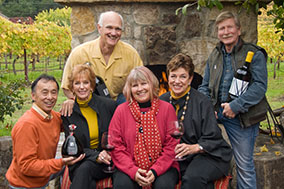 About
Parallel Napa Valley is the story of the parallel lives and friendships of eight close friends and skiers from Park City, Utah. The acclaimed mountain-grown Napa Cabernet and Russian River Valley Chardonnay represent a decade of collaboration between those friends and two of the top winemaking professionals in the industry today: winemaker Philippe Melka, and veteran oenologist Jim Barbour.
Winemaker
Philippe Melka
Images
Press Highlights
Press Kit
News Articles
14 July, 2020
FOR IMMEDIATE RELEASE Contact: Kimberly Noelle Charles Charles Communications Associates press@charlescomm.com Tel 415-730-0064 Parallel Napa Valley Moves Private, By Appointment Tastings at Brasswood in St. Helena Outdoors as Private, Online Tastings Continue Following Napa County protocols both tastings are held outdoors Napa Valley, CA – July 14, 2020 – Following the recent update on Napa County regulations, which requires tasting rooms and restaurants to move all tastings and dining outside, Parallel Napa Valley announced it will be hosting their in person tastings outdoors. At Parallel's winemaking and hospitality home, Brasswood in St. Helena, there is plenty of stunning outdoor spaces to privately host guests for both their Apres Wine Tasting and Lunch & Wine Tasting Experiences. Both of these in-person tasting options continue to follow the strict state and county protocols in place for hygiene, sanitation and social distancing. The Parallel Wine Pairing Lunch features a set menu of four seasonal courses paired with four Parallel Wines, which are crafted by renowned winemaker Philippe Melka, including Napa Valley Chardonnay, Napa Valley Cabernet Sauvignon, Black Diamond Reserve Cabernet Sauvignon and a special pour from Parallel's Library Selection. "We are very excited to welcome guests once again for an unforgettable wine pairing lunch experience at Brasswood," said Parallel General Manager Adrienne Smith. "We've offered this experience for more than two years, and it is one of our most popular. Our wines really shine with the delicious seasonal dishes prepared by Brasswood Chef David Nuno, and the whole experience makes for a delightful and memorable day in the beautiful Napa Valley." The Apres Wine Tasting gives visitors the chance to enjoy the same four Parallel Wines with a special selection of small bites and cheeses from the Brasswood Bakery. Reservations for the Parallel Private Wine Pairing Lunch are available seven days a week with the earliest appointment at 11:30AM. Appointments for the Apres Wine Tasting are available at 10:00AM, 12:00PM or 2:00PM daily. Reservation requests for parties of up to five people for lunch and up to six for the Apres Tasting can be made
online
or by contacting Adrienne Smith directly at adrienne@parallelwines.com or by phone at (707) 486-1100. Guests will be able to purchase Parallel Wines on-site or place orders to be shipped to their homes in states where permitted. Online Tasting Experiences to Continue Since the Covid-19 pandemic forced so many shut-downs, Parallel Napa Valley has seen great success with its online tasting experiences. In March, Parallel launched a
private online tasting option
hosted by their Culinary Institute of America-trained chef and General Manager, Adrienne Smith, which offers guests three bottles of current-release Parallel Wines, including Napa Valley Chardonnay, Napa Valley Cabernet Sauvignon and Black Diamond Reserve Napa Valley Cabernet Sauvignon, as well as food pairing suggestions and tasting notes, for $95 per person. Most recently, Parallel added an optional selection of
food pairings
from St. Helena's Panevino that can be added to any wine tasting experience for $35, including Rosemary Mixed Nuts, Saucisson Provencal and Oil-Cured French Olive and Provencal Herb Grissini. "Each specialty item was chosen to pair with one of the three stunning Philippe Melka Parallel Wines featured in the online tasting," added Smith. "All the guests need to do is provide the glasses and wine opener for a complete Parallel Napa Valley tasting experience in their own home." About Parallel Napa Valley Parallel Napa Valley is an artisan winery that produces top quality Napa Valley designated Cabernet Sauvignon and Chardonnay wines, created by Philippe Melka, well-regarded by leading critics as one of the pre-eminent wine consultants in the U.S. and beyond. The winery was established originally as a partnership in 1999 by close friends who felt the concept of their dream represented their parallel lives in Deer Valley (in Park City, Utah) where they are originally from, and Napa Valley, their second home. The Parallel Napa Valley label captures the essence of the lines carved by skis on the first run of the day, and the wines are named for famous black diamond ski runs. In addition to making great wines, the partners of Parallel Napa Valley are dedicated philanthropists and have made it a priority to extend their wine and its success to support their communities and various charities. Parallel Napa Valley's hospitality and winemaking home is located in the stylish,
appointment-only tasting room in Brasswood
, just a few miles north of the town of St. Helena. It offers a sophisticated food pairing tasting menu, which can be booked for daytime tastings, lunches, and receptions. The beautiful facility also can be available to host private dinners - even weddings - in the Brasswood Restaurant or a private room. About Charles Communications Associates Charles Communications Associates, a leading marketer of fine wine brands and regions is proud to have represented Parallel Napa Valley since the founding of the brand. For media inquiries, images and interviews, please contact Kimberly Charles of Charles Communications Associates at 415.701.9463 or kcharles@charlescomm.com. ###
17 June, 2020
Contact: Kimberly Noelle Charles Charles Communications Associates 415|701-9463
press@charlescomm.com
Exclusive Philippe Melka Portfolio Limited Time Offering Includes Parallel Napa Valley June 17-23, 2020 June 17, 2020 – Parallel Napa Valley is pleased to announce an exclusive wine offering created with five additional vintners held in high esteem. All six wineries in the collection are brought together by a common thread - small production wines made by noted, top-rated consulting winemaker, Philippe Melka. On offer June 17-23, participating wineries include the following top tier, collectible portfolio: Parallel Napa Valley, Davis Estates Phase V., Seavey, Skipstone, Moone-Tsai and Alejandro Bulgheroni. Collections include: The Discover Collection $630 2017 Parallel Napa Valley Cabernet Sauvignon 2017 Skipstone Preface Proprietary Red 2016 Davis Estates Phase V Petite Sirah 2017 Moone-Tsai Napa Valley Cabernet Sauvignon 2015 Seavey Caravina Cabernet Sauvignon 2016 Alejandro Bulgheroni Estate Lithology Napa Valley The Enthusiast Collection $1,225 2016 Parallel Black Diamond Reserve Napa Valley Cabernet Sauvignon "Limelight" 2016 Skipstone Oliver's Blend Cabernet Sauvignon 2016 Davis Estates Phase V Cabernet Sauvignon 2016 Moone-Tsai Howell Mountain Hillsides Blend 2014 Seavey Cabernet Sauvignon 2015 Alejandro Bulgheroni Estate Lithology Beckstoffer To Kalon The Connoisseur Collection $1,850 All 12 wines from The Discover and Enthusiast Collections * Pricing are inclusive of tax and temperature-controlled shipping where legal. A rare and special presentation of these wines, they make a great Father's Day, Birthday, Anniversary, or Quarantine Survival gift from a winemaker whose wines continually earn top-notch ratings and awards from many notable wine publications and the highest bids at the Napa Valley Wine Auction. To purchase one of the Exclusive Melka Vintner Collections visit
Parallel Wines.
About Philippe Melka A native of Bordeaux, Melka grew up intrigued by the intricacies of the lands around him. When it came time for college, he acted on his childhood interests, earning a degree in Geology at the University of Bordeaux. A class in winemaking in his final year was a turning point, propelling him to earn a Master's Degree in Agronomy and Enology. His first job out of school was at Chateau Haut-Brion. From there he took a position with the Moueix Company and was sent to Dominus estate in Yountville to study soils in 1991. Napa Valley proved to be a revelation for him. He set out traveling, dividing time between soil study and winemaking at world renown wineries Badio a Coltibuono in Chianti and Chittering Estate in Australia. He returned to France in 1993 to deepen his expertise at Chateau Petrus. A year later, Napa Valley was lucky to have him return where he has been since. He has served as consulting winemaker for some of Napa's most highly regarded properties under the company name Atelier Melka. About Parallel Napa Valley Parallel Napa Valley is an artisan winery that produces top quality Napa Valley designated Cabernet Sauvignon and Chardonnay wines, created by Philippe Melka, well regarded by leading critics as one of the pre-eminent wine consultants in the U.S. and beyond. The winery was established originally as a partnership in 1999 by close friends who felt the concept of their dream represented their parallel lives in Deer Valley (in Park City, Utah) where they are originally from, and Napa Valley, their second home. The Parallel Napa Valley label captures the essence of the lines carved by skis on the first run of the day, and the wines are named for famous black diamond ski runs. In addition to making a great wine, the partners of Parallel Napa Valley are dedicated philanthropists and have made it a priority to extend their wine and its success to support their communities and various charities. Parallel Napa Valley's hospitality and winemaking home is located in the stylish,
appointment-only tasting room in Brasswood
, just a few miles north of the town of St. Helena which is currently complying with the Shelter in Place regulations, but is offering a number of tasting options including on-site and
virtual private tastings
, including a complimentary tasting for
frontline medical workers
in the month of June and most recently, a private wine pairing
lunch experience
at Brasswood Restaurant. For media inquiries, images and interviews, please contact Kimberly Charles of Charles Communications Associates at 415.701.9463 or
kcharles@charlescomm.com
. # # #
3 June, 2020
Contact: Kimberly Noelle Charles Charles Communications Associates kcharles@charlescomm.com Tel 415-730-0064 Parallel Napa Valley Relaunches Private Wine Pairing Lunch Experience at St. Helena's Brasswood Restaurant General Manager Adrienne Capps Will Host Small Groups Starting June 1 Napa Valley, CA – June 3, 2020 – Parallel Napa Valley is pleased to announce it has resumed its popular private wine pairing lunches at Brasswood in St. Helena, starting on Monday, June 1. The Parallel Wine Pairing Lunch will feature a set menu of four seasonal courses paired with four Parallel Wines, which are crafted by renowned winemaker Philippe Melka, including Napa Valley Chardonnay, Napa Valley Cabernet Sauvignon, Black Diamond Reserve Cabernet Sauvignon and a special pour from Parallel's Library Selection. "We are very excited to welcome guests once again for an unforgettable wine pairing lunch experience at Brasswood," said Parallel General Manager Adrienne Capps. "We've offered this experience for more than two years, and it is one of our most popular. Our wines really shine with the delicious seasonal dishes prepared by Brasswood Chef David Nuno, and the whole experience makes for a delightful and memorable day in the beautiful Napa Valley." Capps also notes that the team at Brasswood is working to ensure a safe and comfortable experience for all, with strict protocols in place for hygiene and social distancing. Tables will be spaced six feet apart, masks will be required for guests when not seated, as well as for all restaurant staff, and there will be a maximum of six guests per table, including a Parallel Wines host. In addition, tables, bathrooms, and the entire property will be thoroughly sanitized with great frequency. Reservations for the Parallel Private Wine Pairing Lunch will be available seven days a week, starting Monday, June 1 at 11:30 a.m. Reservation requests for parties of up to five people can be made
online
or by contacting Adrienne Capps directly at adrienne@parallelwines.com or by phone at (707) 486-1100. Guests will be able to purchase Parallel Wines on-site or place orders to be shipped to their homes in states where permitted. Online Tasting Experiences to Continue Since the Covid-19 pandemic forced so many shut-downs, Parallel Napa Valley has seen great success with its online tasting experiences. In March, Parallel launched a
private online tasting series
hosted by Adrienne Capps which offers guests three bottles of current-release Parallel Wines, including Napa Valley Chardonnay, Napa Valley Cabernet Sauvignon and Black Diamond Reserve Napa Valley Cabernet Sauvignon, as well as food pairing suggestions and tasting notes, for $95 per person. Most recently, Parallel added an optional selection of
food pairings
from St. Helena's Panevino that can be added to any wine tasting experience for $35, including Rosemary Mixed Nuts, Saucisson Provencal and Oil-Cured French Olive and Provencal Herb Grissini. "Each specialty item was chosen to pair with one of the three Parallel Wines featured in the online tasting," added Capps. "All the guests need to do is provide the glasses and wine opener for a complete Parallel Napa Valley tasting experience in their own home." In addition, Parallel continues its "
Glass of Gratitude
" program, offering complimentary tastings – including two bottles of Parallel Wines – to front-line medical workers. "Participants have been so grateful for a night off from fighting the coronavirus," added Val Chin, Partner at Parallel Napa Valley. "We're happy to provide a bit of a break for these heroes during this difficult time." About Parallel Napa Valley Parallel Napa Valley is an artisan winery that produces top quality Napa Valley designated Cabernet Sauvignon and Chardonnay wines, created by Philippe Melka, well-regarded by leading critics as one of the pre-eminent wine consultants in the U.S. and beyond. The winery was established originally as a partnership in 1999 by close friends who felt the concept of their dream represented their parallel lives in Deer Valley (in Park City, Utah) where they are originally from, and Napa Valley, their second home. The Parallel Napa Valley label captures the essence of the lines carved by skis on the first run of the day, and the wines are named for famous black diamond ski runs. In addition to making great wines, the partners of Parallel Napa Valley are dedicated philanthropists and have made it a priority to extend their wine and its success to support their communities and various charities. Parallel Napa Valley's hospitality and winemaking home is located in the stylish,
appointment-only tasting room in Brasswood
, just a few miles north of the town of St. Helena. It offers a sophisticated food pairing tasting menu, which can be booked for daytime tastings, lunches, and receptions. The beautiful facility also can be available to host private dinners - even weddings - in the Brasswood Restaurant or a private room. About Charles Communications Associates Charles Communications Associates, a leading marketer of fine wine brands and regions, is proud to have represented Parallel Napa Valley since the founding of the brand. For media inquiries, images and interviews, please contact Kimberly Charles of Charles Communications Associates at 415.701.9463 or kcharles@charlescomm.com. ###