Veramonte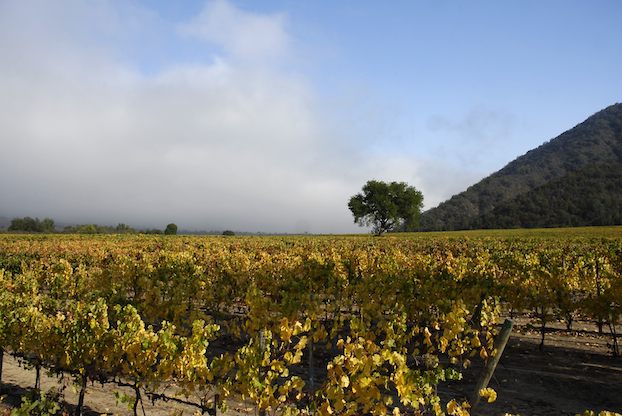 About
Veramonte has been a standout of Chilean wines since it's founding in 1990. An early pioneer of growing ultra-premium wines sustainably in the Casablanca Valley, this region is situated a quick drive from Santiago and is marked by the snowcapped Andes and Valparaíso's cooling maritime influence.

Organic faming practices and a rigorous approach to quality control have helped make Veramonte wines a standout in competitions, restaurants, and dining rooms across the world. The unusually cool climate in the foothills of the Coastal Range allows for the highest quality pinot noir, sauvignon blanc, and chardonnay vines to flourish. Veramonte's portfolio includes handcrafted bottlings of those varieties as well as carmenere, cabernet sauvignon, merlot, and a rosé of syrah.
Images
Press Highlights
News Articles
16 June, 2016
Veramonte Winery in Casablanca Valley Announces New Offerings
The winery invites travelers looking for a modern wine-drinking experience to explore the vineyards with new tours, tastings, and amenities
Casablanca Valley, Chile, June 2016
- Just an hour drive outside of Santiago awaits the recently remodeled
Casona Veramonte
, now offering the latest experiences in authentic Chilean winegrowing in a traveler's dream setting. Known for high-tech grape growing practices, focused environmental protection measures and unique wines that reflect the care and quality of the soil they come from, Veramonte Winery invites those who seek a professional wine-drinking experience to explore the surrounding estate in one of their new tours, designed specifically to entertain and educate. Three new tours invite guests to witness a unique view of the vineyards, winery, and barrel rooms while delving into the art of winemaking with a focus on commitment to sustainable and organic practices. Tours end with an opportunity to experience wine like a professional with a tasting of premium wines that highlight Veramonte's winemaking philosophy. For those who seek a richer touring experience, a personalized tour to parts of the vineyard restricted from many can be organized. Each tour is offered in both English and Spanish and can accommodate private parties. Those looking to kick their feet up after a long tour or to experience winemaking from the vine to the bottle in a comfortable setting should look no further than the new offerings at the Casona's grand hall. When proprietor
Agustín Huneeus
commissioned famed architect Jorge Swinburn to design Casona Veramonte, the first "Napa-style" winery in Chile in 1998, Swinburn looked to the Santiago's iconic Mercado Central for inspiration. Agustín had a vision for the picturesque Casona, imaging it as a place to share unforgettable experiences centered on wine. Today, although that dream was long ago met, it is strengthened through Chilean designer Santiago Valdés' renovation of the 8500 square foot center hall, now home to a shop displaying local artisanal products and Chilean and international wines, an exclusive member's lounge, and a 23-foot-long wine tasting bar that opens up to a modern café with delectable offerings sourced from the winery's own gardens, which were designed by well-known landscapist
Cristóbal Elgueta
, specializing in wild gardens. All the furniture was designed and handmade by Valdés, who with his father, Cristián Valdés, created the renowned furniture design company,
Muebles Valdes
. Casona Veramonte is an apex of adventure, education, and entertainment, and a worthy destination for all ages and all levels of wine knowledge. For information and touring appointments, please visit:
http://www.casonaveramonte.com/
About Veramonte and Founder Agustín Huneeus
Surrounded by a unique coastal mountain range deep within in the Casablanca Valley, the
Veramonte
estate produces wines that reflect the unique terroir and diversity of microclimates, a natural occurrence as the valley floor's cool air drifts through the warmer foothills. From idea to bottle, Veramonte wines are crafted with respect for the environment and land. They are the consummation of sustainable farming practices in the vineyard met with Old World winemaking techniques and high tech advances in the cellar. Spearheaded in 1990, the Veramonte estate represents founder Agustín Huneeus' return to Chile, where he had entered the wine industry 30 years prior as part of Concha y Toro, which under his management became the largest winery in the nation. Recognizing the Casablanca Valley's proximity to Santiago and potential in becoming a tourist's dream vacation, Agustin's decision put the region on track to becoming a world-renowned wine destination.
About Huneeus Vintners
Vintner Agustin Huneeus is credited with discovering some of the world's greatest vineyards spanning five decades and 15 countries. He founded
Ritual
in 1990 as the Huneeus family's original, flagship estate on the extreme eastern edge of the Casablanca Valley in Chile. The Huneeus family was among the first to foresee this cool-climate Chilean terroir's remarkable potential to produce world-class wines. The Huneeus Vintners Chilean portfolio of wines is crafted by a team of expert viticulturists and winemakers, led by highly influential Chilean winemaker Rodrigo Soto along with superstar consultant, Paul Hobbs and renowned terroir specialist, Pedro Parra. Native to Chile, Rodrigo brings a wealth of international winemaking experience to the Ritual,
Primus
,
Veramonte
and
Neyen
labels. Currently Rodrigo is working on converting all the Chilean vineyards to 100% organic and eventually biodynamic - a project of massive scale given the extensive vineyard holdings of Huneeus in the Apalta and Casablanca Valleys. The ultimate goal is quality, and all four diverse properties are poised to be at the forefront of Chile's fine wine evolution. In addition to the Chilean properties, the Huneeus family's current vineyard and winery projects include the
Quintessa
estate in Napa Valley,
Faust
Napa Valley,
Flowers Vineyards & Winery
Sonoma Coast, and
Illumination
Napa Valley. For more information, visit
www.huneeusvintners.com
.
Media Contact
For press inquiries and images relevant to the Chilean portfolio, please contact Kimberly Charles at Charles Communications Associates at
press@charlescomm.com
or 415.701.9463.