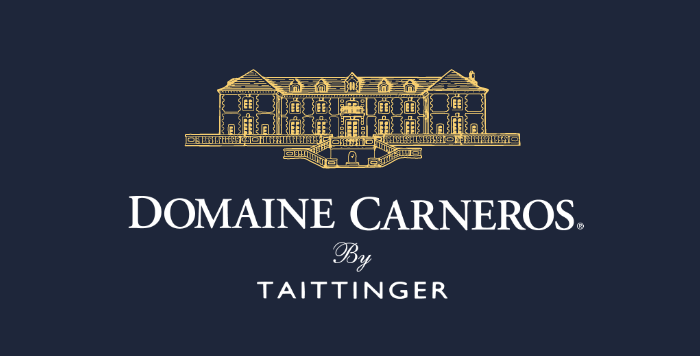 Domaine Carneros
Carneros, CA
About
The Champagne Taittinger tradition was brought to California with the founding of Domaine Carneros in 1986. Beginning with 138 coveted acres, the Taittinger family was able to transplant their legacy and expertise onto the New World and redefine Champagne's relationship with California sparkling wine. Located in the heart of the Los Carneros AVA between the Napa and Sonoma Valleys, gusty winds and a reliably cool climate make the 400-acre Domaine Carneros estate vineyards an ideal locale for sustainably growing the pinot noir and chardonnay needed to make ultra-premium sparkling and still wines.
The portfolios of ultra-premium sparkling and still wines have distinguished Domaine Carneros as a benchmark for California wine. Those wines, crafted by Sparkling Winemaker Zak Miller and Pinot Noir Winemaker TJ Evans, reflect the unique terroir of Carneros while incorporating the rich legacy of Champagne Taittinger. That legacy is further reflected in the design of the Domaine Carneros château, which was inspired by the Taittinger family's 18th century Château de la Marquetterie in Champagne, France.

People

Zak Miller – Sparkling Winemaker
Working alongside Founding Winemaker, Eileen Crane, opened to Miller a new realm of possibility in winemaking – sparkling wines – and he hasn't looked back since. Through Crane and the Domaine Carneros team, he developed a deep appreciation for the versatility of both pinot noir and chardonnay in sparkling winemaking and the great skill required to craft beautifully balanced, elegant yet complex wines. And through his work as a sparkling winemaker, he grew to love a variety he admittedly didn't gravitate toward originally – chardonnay – which provides the base for what he feels is its finest expression (and a personal favorite), Blanc de Blancs. Just prior to the 2020 harvest, Miller stepped into the role of Sparkling Winemaker, where he will be at the forefront of daily sparkling operations ranging from harvesting, cuvée blending, and tirage, seeing it all through the final sparkling wine process of disgorging.

TJ Evans – Pinot Noir Winemaker
TJ Evans grew up in Northern California, but his work has taken him to the world's finest winemaking regions. After earning degrees from Amherst College and the University of California at Davis, Evans apprenticed at such legendary estates as Domain Jean Louis-Chave in France, Villa Maria Estate in New Zealand, and the Napa Valley's Robert Mondavi Winery and Far Niente. Winemaking positions at La Crema's Russian River Valley estate, and Alderbrook Winery in Dry Creek Valley helped Evans develop his love for pinot noir and expertise in crafting it. Evans then spent three years in Chile's Bio Bio Valley helping create a pinot noir and chardonnay estate for Viñedos y Bodegas Córpora. Since his return in 2008, Evans has been developing Domaine Carneros's portfolio of award-winning pinot noirs from diverse clonal and vineyard sources. His diligent work from vineyard to barrel has helped Domaine Carneros's still wines reach the same level of acclaim as their iconic sparkling portfolio.

Eileen Crane - Founding Winemaker and former CEO
Crane is not only one of the industry's pioneering women, but also the most experienced American sparkling winemaker with over 40 years to her credit and is widely regarded as the doyenne of sparkling wine in America. Her pursuit of excellence in viticulture, winemaking and hospitality has made Domaine Carneros an iconic American winery. After an incredibly successful career spanning 42 years, Eileen Crane stepped down from her role as CEO at the end of summer 2020. She now serves as consulting winemaker for the team.


Press Highlights
News Articles
24 May, 2023
Domaine Carneros Debuts New Menu for the Popular "Bubbles & Bites" Experience A Journey Through Southeast Asia WHO: Founded in 1987, in the Carneros appellation of Northern California by the Champagne Taittinger family, Domaine Carneros is a grower producer of ultra-premium sparkling wines and limited production pinot noirs. Domaine Carneros has become the benchmark for California sparkling wine, reflecting both the individuality of the Carneros' terroir and the craftsmanship of its French legacy. WHAT: The Art of Sparkling Wine Pairing: Bubbles & Bites The popularity of the Bubbles & Bites tasting menu, first launched in 2018, has been a special experience for visitors who wish to explore the versatility of sparkling wine with different cuisines. To date, the winery has focused on Asian, Mexican, Moroccan and Spanish pairings and now announces its next cuisine of focus...a journey through Southeast Asia. Pictured: New Southeast Asian "Bubbles & Bites" Experience Debuts June 1st Experience the versatility of sparkling wine in this curated food & wine pairing which highlights the flavors of cuisines around the globe. This limited-edition menu takes you on a journey through Southeast Asia. Celebrate the diversity of cuisine in Vietnam, Thailand, and India, and discover unexpected and delightful pairings with sparkling wine. Join us for this food & wine pairing experience that includes four savory and one sweet bite, each of which has been specially designed to pair with four of Domaine Carneros' top-rated estate grown sparkling wines – Ultra Brut, Estate Brut Cuvée, Brut Rosé, and Verméil Demi-Sec. Led by the winery's most seasoned wine educators, this experience will shed a new light on the versatility of sparkling wine. Menu Vietnamese style Shrimp on Rice Noodles Lemongrass marinated shrimp served atop rice noodles tossed in a cooling nuoc cham vinaigrette. Paired with 2018 Domaine Carneros Ultra Brut Massaman Curry with Paneer Seared Indian paneer cheese served over a nest of crispy rice sticks and bathed in a traditional Thai Massaman curry. Paired with 2018 Domaine Carneros Estate Brut Cuvée Pork Banh-Mi Marinated thinly sliced pork on a homemade roll, dressed with traditional pickled carrots & daikon, fresh cilantro, sriracha aioli, and mushroom duxelles. Paired with 2019 Domaine Carneros Brut Rosé Thai style Chicken Larb Ground chicken with lemongrass, chili, garlic, cilantro & mint, and Chinese long beans served on a bed of crisp lettuce. Paired with 2018 Domaine Carneros Verméil Demi-Sec Pandan Custard Cake Thai custard cake infused with Pandan leaves and topped with fresh basil whipped cream. Paired with 2018 Domaine Carneros Verméil Demi-Sec *Dietary restrictions can be accommodated, please call the winery to discuss personalization $99 cost, does not include gratuity or sales tax. $35 per person deposit is required for booking. This unique tasting experience is available for groups up to 8, guests 21 years and older. 48-hour cancellation. Domaine Carneros offers specialized versions of this experience for larger parties. Please call 707-257-0101 extension 150 for inquiries. WHERE:  Domaine Carneros Winery 1240 Duhig Rd, Napa, CA 94559  About Domaine Carneros Founded in 1987, Domaine Carneros reflects the hallmark of its founder, Champagne Taittinger, in creating terroir-driven sparkling wine and preserving the quality tenets of the traditional method production. Located entirely within the Carneros AVA, between Napa and Sonoma counties, the six estate vineyards total approximately 400 acres with 150 acres planted to Chardonnay, 250 acres planted to Pinot Noir. The winery focuses on making ultra-premium Carneros sparkling wines limited production pinot noirs grown on their estate vineyards. For more information, visit:
www.domainecarneros.com
Social: Domaine Carneros Instagram |
www.instagram.com/domainecarneros
Twitter |
www.twitter.com/domainecarneros
Facebook |
www.facebook.com/domainecarneroswinery
MEDIA CONTACT: Kimberly Noelle Charles of Charles Communications Associates
kcharles@charlescomm.com
or 415.730.0064
13 April, 2023
Domaine Carneros Celebrates Sustainability for Earth Day 2023 PowerFlex Microgrid represents Next Generation of Solar Power Napa, CA – April 13, 2023 – Earth Day 2023 brings a vibrant green to the terrain and vineyards of Domaine Carneros as the 2022-23 winter rains have provided much needed relief from the past five years of drought in California. 2023 will mark a significant advance in the winery's record of sustainability when a new solar microgrid and battery system comes online, providing the winery over 75% energy independence. Since its founding in 1987, Domaine Carneros has put sustainability initiatives at the forefront of their daily practices, consistently working to minimize their environmental impact as true stewards of the land. The intention at Domaine Carneros is to create the best wines and most memorable sparkling wine experiences through healthy land, vines, and people. For the 36 years since its founding, Domaine Carneros has pushed the sustainability envelope to ensure that the winery lives as lightly on the land as possible while producing excellent grapes, and, of course, wine. In pursuit of the highest standards, Domaine Carneros has sought and received certifications from numerous prestigious sustainable organizations. Annual assessments and audits seek out new areas to improve upon rigorous standards of sustainability not only for the winery, but also for its place in the community and as an employer. The winery implements the following measures towards continuous improvement: Re-use and recycling Through composting, recycling, and reuse, over 90% of solid waste is diverted from landfills. Water used in the production process is recycled and used to irrigate the estate vineyards. A decade-long packaging reuse program, whereby 20-25% of cases and inserts are reused for in-house purposes. Sustainability Practices Solar energy has long been a crucial aspect of Domaine Carneros' sustainability plan, having installed the largest solar collection system of any winery in the world when it was implemented in 2003. In 2023, Domaine Carneros will be among the first wineries in the Napa Valley to install a solar microgrid and battery system, which will supply 75% of the winery's power, and ultimately allow the winery to be self-sustaining during power outages. The winery's use of skylights, building into the earth, and employing night cooling systems to maintain cellar temperatures all contribute to energy conservation as well as robust employee involvement in daily conservation efforts. The winery practices Integrated Pest Management using natural controls for vineyard pests such as boxes to attract owls which feed on voles and using cover crops that attract beneficial insects to control insect pests. Grape pomace from harvest is used to feed local cattle in a region of California with historic ties to the dairy business. Commitment to Employees The winery has strong principles of diversity, equity and inclusion, and its staff is reflective of that commitment. The winery practices open book management, inspiring all employees to be a part of a collective success. The winery fosters and encourages mentorship for its staff and embraces professional development beyond the team in the form of
scholarship offerings
and a
fellowship
. The winery has been awarded several prestigious honors from the state of California and other well-respected organizations. In April 2023, the winery received the
RISE Leadership Award
for outstanding waste prevention and greening of its supply chain. In 2020, the winery received the
Napa Climate NOW
! award for being a Climate Champion in the Business Category. The winery also received the California Green Medal Business Award in 2019 for "demonstrating smart business through efficiencies, cost savings, and innovation from implementing sustainable practices." Only four wineries are awarded the medal each year, so the honor is quite significant given the number of wineries in the state. Domaine Carneros has been a Bay Area Green Business since 2014, Fish Friendly Farming certified since 2015, Napa Green Vineyard & Winery since 2014 and is Certified by the California Sustainable Winegrowing Alliance since 2015. Looking towards the future, CEO Remi Cohen reiterated the foundations of the winery's philosophy which she is carrying forward, "Domaine Carneros has always been a leader in thoughtful winemaking and vineyard management, looking towards furthering our sustainability practices and initiatives. As we meet new climate challenges, the winery will always look to be a leader with a light footprint as well as a strong investment in the future of its team and the industry." ABOUT DOMAINE CARNEROS Founded in 1987, Domaine Carneros reflects the hallmark of its founder, Champagne Taittinger, in creating a vision of terroir-driven sparkling wine and preserving the quality tenets of the methode traditionelle of sparkling wine production. Located entirely within the Carneros AVA, between Napa and Sonoma counties, the six estate vineyards total approximately 400 acres with 150 acres planted to chardonnay, and 250 acres planted to pinot noir. The winery focuses on making ultra-premium Carneros sparkling wines largely estate grown and limited production pinot noirs. For additional information, images, and interview requests, please contact Kimberly Noelle Charles of Charles Communications Associates at
kcharles@charlescomm.com
or 415-730-0064. ###
2 March, 2023
Domaine Carneros commemorates the 40th Anniversary of the Carneros AVAWith a celebratory new tasting experience only available during the month of March
March 2, 2023 Napa, CA
- Domaine Carneros, the award-winning California grower-producer of méthode traditionelle sparkling wines, introduces Colors of Carneros, a
new tasting experience
to celebrate the 40th anniversary of the Carneros American Viticultural Area (AVA). Domaine Carneros was founded in 1987, when the Taittinger Family, with the dream of making the finest sparkling wine in the United States, purchased a 138-acre parcel in the heart of the Carneros AVA. Colors of Carneros, a curated selection of the most-loved sparkling wines and classic pinot noirs all produced with estate fruit from Carneros, features the 2018 Estate Brut Cuvée, 2019 Brut Rosé, 2020 Avant-Garde Pinot Noir, and 2020 Estate Pinot Noir. Enjoy this flight at the château overlooking the vineyards amidst the scenic rolling hills of Carneros or purchase the
flight of wines
for a special occasion to be enjoyed in the privacy of your own home. The cost at the Domaine Carneros tasting room is $40 person ($32 for Château Society Members) not including gratuity or sales tax or purchase the set of wines for $165. Reservations are required and can be made
online
or by calling the winery at 1-800-716-2788 x 150. With a history that dates to the 1800s, Carneros received its AVA status in 1983 and the Carneros Wine Alliance was formed shortly thereafter in 1985. Carneros was the first wine region in California to be defined by its climate characteristics rather than political boundaries, in large part due to the influence of the San Pablo Bay that straddles both Sonoma and Napa. The cool to moderate climate variations of the Carneros AVA offers some of the most versatile wines in the valley and produces grapes with the acidity levels needed to make sparkling wine and lively still wines. About Domaine Carneros Founded in 1987, Domaine Carneros reflects the hallmark of its founder, Champagne Taittinger, in creating terroir-driven sparkling wine and preserving the quality tenets of the traditional method production. Located entirely within the Carneros AVA between Napa and Sonoma counties, the six estate vineyards total approximately 400 acres with 150 acres planted to Chardonnay, 250 acres planted to Pinot Noir. The winery focuses on making ultra-premium Carneros sparkling wines and limited production pinot noirs grown on their estate vineyards. For more information, visit:
www.domainecarneros.com
. Social: Domaine Carneros Instagram |
www.instagram.com/domainecarneros
Twitter |
www.twitter.com/domainecarneros
Facebook |
www.facebook.com/domainecarneroswinery
MEDIA CONTACT: Kimberly Noelle Charles of Charles Communications Associates
kcharles@charlescomm.com
or 415.730.0064