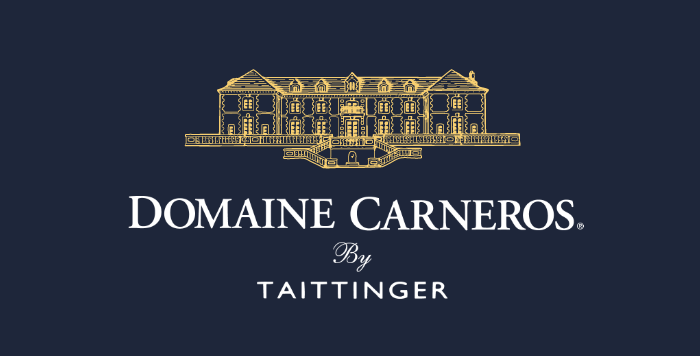 Domaine Carneros
Carneros, CA
About
The Champagne Taittinger tradition was brought to California with the founding of Domaine Carneros in 1986. Beginning with 138 coveted acres, the Taittinger family was able to transplant their legacy and expertise onto the New World and redefine Champagne's relationship with California sparkling wine. Located in the heart of the Los Carneros AVA between the Napa and Sonoma Valleys, gusty winds and a reliably cool climate make the 400-acre Domaine Carneros estate an ideal locale for sustainably growing the pinot noir and chardonnay needed to make ultra-premium sparkling and still wines.
The portfolios of ultra-premium sparkling and still wines have distinguished Domaine Carneros as a benchmark for California wine. Those wines, crafted by CEO & Founding Winemaker Eileen Crane and Pinot Noir Winemaker TJ Evans, reflect the unique terroir of Carneros while incorporating the rich legacy of Champagne Taittinger. That legacy is further reflected in the design of the Domaine Carneros château, which was inspired by the Taittinger family's 18th century Château de la Marquetterie in Champagne, France.

Eileen Crane – CEO & Founding Winemaker
Crane's love of fine wine and cuisine was passed on by her father, who was stationed in France during WWII. It was he that first introduced Crane to champagne and helped inpsire her life's work. After achieving a master's degree in nutrition, training at the Culinary Institute of America, and teaching at the University of Connecticut, Crane returned to school and earned a degree in Enoloy and Viticulture at the University of California at Davis. Rising from tour guide to assistant winemaker at Domaine Chandon, Crane soon gained a reputation for her deft sparkling palate. In 1984, she helped found Gloria Ferrer Caves & Vineyards as Winemaker and Vice President and crafted their inaugural vintages. After an exhaustive search, Crane was selected by the Taittinger family to be Founding Winemaker and General Manager of constructing the chateau at Domaine Carneros in 1987. Over the last thirty years, Crane and Domaine Carneros have reached iconic status in sparkling wine by surpassing strict quality standards at every stage of production and producing wines that represent the Carneros AVA and Crane's decades of experience. Today, Crane is the most experienced sparkling winemaker in America with 41 vintages under her belt.

TJ Evans – Pinot Noir Winemaker
TJ Evans grew up in Northern California, but his work has taken him to the world's finest winemaking regions. After earning degrees from Amherst College and the University of California at Davis, Evans apprenticed at such legendary estates as Domain Jean Louis-Chave in France, Villa Maria Estate in New Zealand, and the Napa Valley's Robert Mondavi Winery and Far Niente. Winemaking positions at La Crema's Russian River Valley estate, and Alderbrook Winery in Dry Creek Valley helped Evans develop his love for pinot noir and expertise in crafting it. Evans then spent three years in Chile's Bio Bio Valley helping create a pinot noir and chardonnay estate for Viñedos y Bodegas Córpora. Since his return in 2008, Evans has been developing Domaine Carneros's portfolio of award-winning pinot noirs from diverse clonal and vineyard sources. His diligent work from vineyard to barrel has helped Domaine Carneros's still wines reach the same level of acclaim as their iconic sparkling portfolio.


Press Highlights
News Articles
26 August, 2019
Domaine Carneros Promotes Zak Miller to Sparkling Winemaker
Carneros, CA
–
August 26, 2019 –
Domaine Carneros is pleased to announce the promotion of Zak Miller to Sparkling Winemaker. The Carneros-based, family-owned winery is celebrated for handcrafting ultra-premium sparkling and pinot noir wines from hand-harvested, estate grown grapes. "For over the past 11 years, Zak and I have worked side by side. I have watched him grow over time, admiring his evolved sparkling wine palate and commitment to producing quality wine. I am excited to grow our winemaking team and have great expectations for our future collaborations," explains Eileen Crane, Founding Winemaker and CEO. In his new role, Zak Miller will be at the forefront of daily sparkling winemaking operations. He joins Founding Winemaker / CEO Eileen Crane, and Pinot Noir Winemaker TJ Evans to produce the exceptional wines of the Domaine Carneros portfolio, including fine sparkling wines and pinot noirs. Zak joined the Domaine Carneros team in 2008 as a seasonal intern. During his 11 years with the winery, his tremendous skill-set and intuition has led to numerous promotions and increased responsibilities in regards to upholding the winery's standards of excellence. A graduate of Virginia Tech, Zak's wine industry career began in 2006 with internships at Saintsbury Winery (Carneros), Drylands Estate (Marlborough, New Zealand), and Beaulieu Vineyards (Rutherford), followed by a Harvest Winemaker position at Viña Errázuriz (Chile).
ABOUT DOMAINE CARNEROS
Founded in 1987, Domaine Carneros reflects the hallmark of its founder, Champagne Taittinger, in creating a vision of terroir-driven sparkling wine while preserving the quality tenets of the traditional method production. Located entirely within the Carneros AVA, between Napa and Sonoma counties, the six estate vineyards total approximately 400 acres with 125 acres planted to Chardonnay, 225 acres planted to Pinot Noir, with the remaining acres currently in development. The winery focuses on making ultra-premium Carneros sparkling wines and limited production Pinot Noirs. Domaine Carneros' château has become a landmark and symbol of the region. The architecture and interior design were inspired by the 18th century Château de la Marquetterie, the Taittinger family residence in the Champagne region. The winery also places a high value on preserving the environment and has farmed sustainably since the late 1980s. The roof of the pinot noir winery adjacent to the château hosts a solar array that was the largest on any winery in the world when it was installed. In 2019 the winery received a
California Green Medal
for its efforts and also won the
2019 California Green Medal Business Award
for demonstrating "Smart Business through efficiencies, cost savings and innovation from implementing sustainable practices." Eileen Crane, CEO & Founding Winemaker, has overseen 32 harvests at the château and in 2018 celebrated the 20th anniversary of the release of the winery's luxury cuvée, Le Rêve Blanc de Blancs. For media inquiries, images and interviews please contact Charles Communications Associates at press@charlescomm.com or 415-701-9463.
###
18 April, 2019
Domaine Carneros' Enduring Commitment to Sustainability Recognized with 2019 California Green Medal Business Award
Carneros, CA
-
April 18, 2019 –
As we get ready to commemorate Earth Day, Domaine Carneros, a family-owned winery committed to handcrafting ultra-premium sparkling and pinot noir wines from hand-harvested, estate grown grapes, is honored to be among the California Green Medal recipients for the fifth annual
Sustainable Winegrowing Leadership Awards
. As the recipient of the
2019 California Green Medal Business Award
, Domaine Carneros was recognized for demonstrating "Smart Business through efficiencies, cost savings and innovation from implementing sustainable practices." Since 1987, sustainability has been a main business practice employed by Domaine Carneros, instituted by CEO Eileen Crane, who has been with the winery since inception. Crane recognized that for philosophical as well as economic reasons, sustainability made sense as a tenet of doing business. Her open book management plan sets measurable goals every three years and reevaluates on an annual basis, ensuring employee involvement in managing the sustainability category as part of the winery's culture. "Domaine Carneros' smart business sense and commitment to sustainability has been apparent in every facet of their operation, with both vineyards and the winery comprehensively certified to Certified California Sustainable Winegrowing (CERTIFIED SUSTAINABLE) and the Napa Green Land and Winery programs," noted the award announcement. Domaine Carneros has placed a high priority on living as lightly on the land as possible. One practice credited for earning the Green Medal Business recognition was the packaging reuse program, whereby cases and inserts are re-used for in-house purposes, which amounts to about a 20-25% reuse rate each year. This alone has saved the company an average of $75,000 per year since the program began in 2011. In addition to the packaging reuse program, the company installed the largest solar collection system of any winery in the world at the time in 2003 (the system captured enough electricity to power 230 homes for a year in 2017 when the data was last measured). Utilizing skylights to reduce the need for electricity, building into the earth and using night cooling systems to maintain cellar temperatures, have all contributed to further energy conservation. Other green practices at Domaine Carneros include composting, and the recycling of bottles, corks, foils, cardboard, paper, plastic wrap and more throughout the winery, which has helped to divert 90% of its solid waste from landfills. Since 2013, Domaine Carneros has been CERTIFIED SUSTAINABLE. An annually renewed certification, CERTIFIED SUSTAINABLE vineyards and wineries produce high quality grapes and wine, protect and preserve the environment, and enhance the community economically and culturally. The company culture of sustainability extends beyond the walls of the winery as well. Since the late 1980's Domaine Carneros has farmed sustainably, from using owl boxes as a natural solution for rodent management to using grape pomace from the harvest to feed local cattle. An enduring focus on water conservation has led the winery to incorporate low flow toilets and employ reclamation systems through their properties. These are also some of the practices that led Domaine Carneros to be Fish Friendly Farming certified in 2015. Fish Friendly Farming is a certification program for agricultural properties managed to restore fish and wildlife habitat and improve water quality. The certification is renewed yearly. In addition to these viticultural practices, Domaine Carneros follows vegan practices, using no animal-derived products at any point in the process, from growing the grapes to the winemaking.
ABOUT DOMAINE CARNEROS
Founded in 1987, Domaine Carneros reflects the hallmark of its founder, Champagne Taittinger, in creating a vision of terroir-driven sparkling wine while preserving the quality tenets of the traditional method production. Located entirely within the Carneros AVA, between Napa and Sonoma counties, the six estate vineyards total approximately 400 acres with 125 acres planted to Chardonnay, 225 acres planted to Pinot Noir, with the remaining acres currently in development. The winery focuses on making ultra-premium Carneros sparkling wines and limited production Pinot Noirs. Domaine Carneros' château has become a landmark and symbol of the region. The architecture and interior design were inspired by the 18th century Château de la Marquetterie, the Taittinger family residence in the Champagne region. The winery also places a high value on preserving the environment and has farmed sustainably since the late 1980s. The roof of the pinot noir winery adjacent to the château hosts a solar array that was the largest on any winery in the world when it was installed. Eileen Crane, CEO & Founding Winemaker, has overseen 31 harvests at the château and in 2018 celebrated the 20th anniversary of the release of the winery's luxury cuvée, Le Rêve Blanc de Blancs. ###
8 November, 2018
Mixologist Scott Beattie's* Domaine Carneros "Cherry Fizz" Cocktail The perfect sparkling cocktail for your holiday entertaining SAN FRANCISCO - Coinciding with Domaine Carneros' collaboration with Humphry Slocombe on a brut-based "Cherry Fizz" ice cream, author and mixologist Scott Beattie created a cocktail also based on sparkling wine and cherry flavors. Perfect for holiday entertaining, the cocktail is easy to prepare and refreshingly light because of it's sparkling base. Useful as both an aperitif or digestif, the "Cherry Fizz Cocktail" is sure to be a hit at your next dinner party. Cherry Fizz Cocktail (single serve) 5 oz Domaine Carneros Brut Vintage Cuvée .5 oz Luxardo .25 oz Raspberry Gum Syrup (Small Hands Foods makes a wonderful one!) .5 oz fresh lemon juice 1 dash Fee Brothers Whiskey Barrel-Aged bitters Zest of orange Preparation: Chill all ingredients prior to mixing. When chilled, combine the Luxardo, Raspberry Gum and lemon juice in cocktail glass. Add the Brut and finish with a dash of the bitters. Stir very gently to mix ingredients (without breaking the bubbles). For garnish, using a paring knife or citrus peeler, cut a long, thin piece of orange rind. Twist over the drink to release oils, run the peel around the rim of the glass, form into a curl and set on the edge of the cocktail. For larger parties, Scott recommends pre-batching the ingredients (other than the wine) and chilling in advance to make preparation incredibly simple and ensure that you spend more time with guests and less time in the kitchen or behind the bar! (Please see below for batching instructions for 25) Base For 25 Cherry Fizz Cocktails 12.5 oz Luxardo 6.25 oz Raspberry Gum Syrup 12.5 oz fresh lemon juice .75 oz Fee Brothers Whiskey Barrel-Aged bitters Zest of orange (Chill this base down to very cold prior to use) To make the drink in the glass for guests using base ingredients pre-mixed: Add to the glass 1 oz chilled Base Add 5 oz Domaine Carneros Brut Vintage Cuvée over the base ingredients Stir gently to mix, twist orange zest over the drink to release oils, run the peel around the rim of the glass, form into a curl and set on the edge of the cocktail. ABOUT DOMAINE CARNEROS Founded in 1987, Domaine Carneros reflects the hallmark of its founder, Champagne Taittinger, in creating a vision of terroir-driven sparkling wine while preserving the quality tenets of the traditional method production. Located entirely within the Carneros AVA, between Napa and Sonoma counties, the six estate vineyards total approximately 400 acres with 125 acres planted to Chardonnay, 225 acres planted to Pinot Noir, with the remaining acres currently in development. The winery focuses on making ultra-premium Carneros sparkling wines and limited production Pinot Noirs. Domaine Carneros' château has become a landmark and symbol of the region. The architecture and interior design were inspired by the 18th century Château de la Marquetterie, the Taittinger family residence in the Champagne region. The winery also places a high value on preserving the environment and has farmed sustainably since the late 1980s. The roof of the pinot noir winery adjacent to the château hosts a solar array that was the largest on any winery in the world when it was installed. Eileen Crane, CEO & Founding Winemaker, has overseen 31 harvests at the château and in 2018 celebrates the 20th anniversary of the release of the winery's luxury cuvée, Le Rêve Blanc de Blancs. About Scott Beattie First establishing himself at the legendary Michelin-starred Cyrus restaurant in Healdsburg, CA, Beattie's use of fresh, natural ingredients soon earned him fame throughout the country as a master mixologist. He is also considered one of the early proponents of farm-to-bar mixing, using local ingredients whenever possible. His first book, Artisinal Cocktails, was published in 2008 to much acclaim. The New York Times called it "the indispensable cookbook of farm-to-glass cocktails." In recent years, Scott has served as Beverage Director at acclaimed Meadowood Napa Valley, where he creates beautiful, local ingredient-driven cocktails for the property's exclusive private events and weddings. Photography by ClubSoda Productions/Henry Dombey